Venture into Ouarzazate, Morocco
19th November 2017
Article
Do you know Ouarzazate is the place where Hollywood films involving desert, african setting are often shot here? Suitated 200km away from Marrakesh in Morocco, almost half of the local population are involved in film making.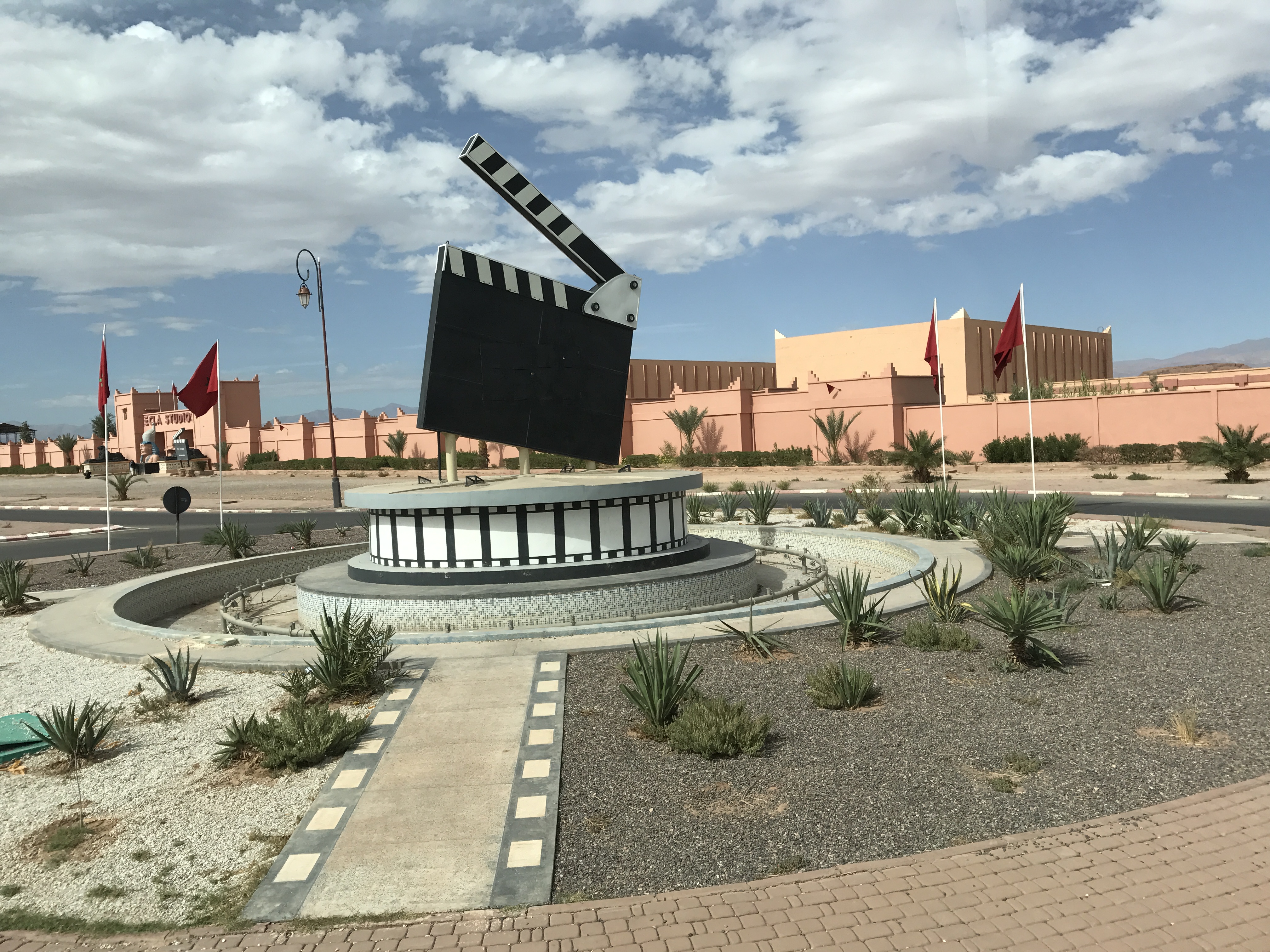 Well known Hollywood stars like Brad Pitt, Angelina Jolie, 50 Cent have all came here for movie shooting. Its dramatic surrounding terrain makes it an ideal flim location. Keep a lookout for famous movie stars! Despite that, Ouarzazate remains a sparsely populated quiet little charming town. The town is walkable with many friendly locals greeting you as one walk pass. Did I also mentioned that the driver who picked me up was also acting in some blockbuster movies. He had acted in the same scene with Brad Pitt before. So come down to Ouarzazate and enjoy being a film maker!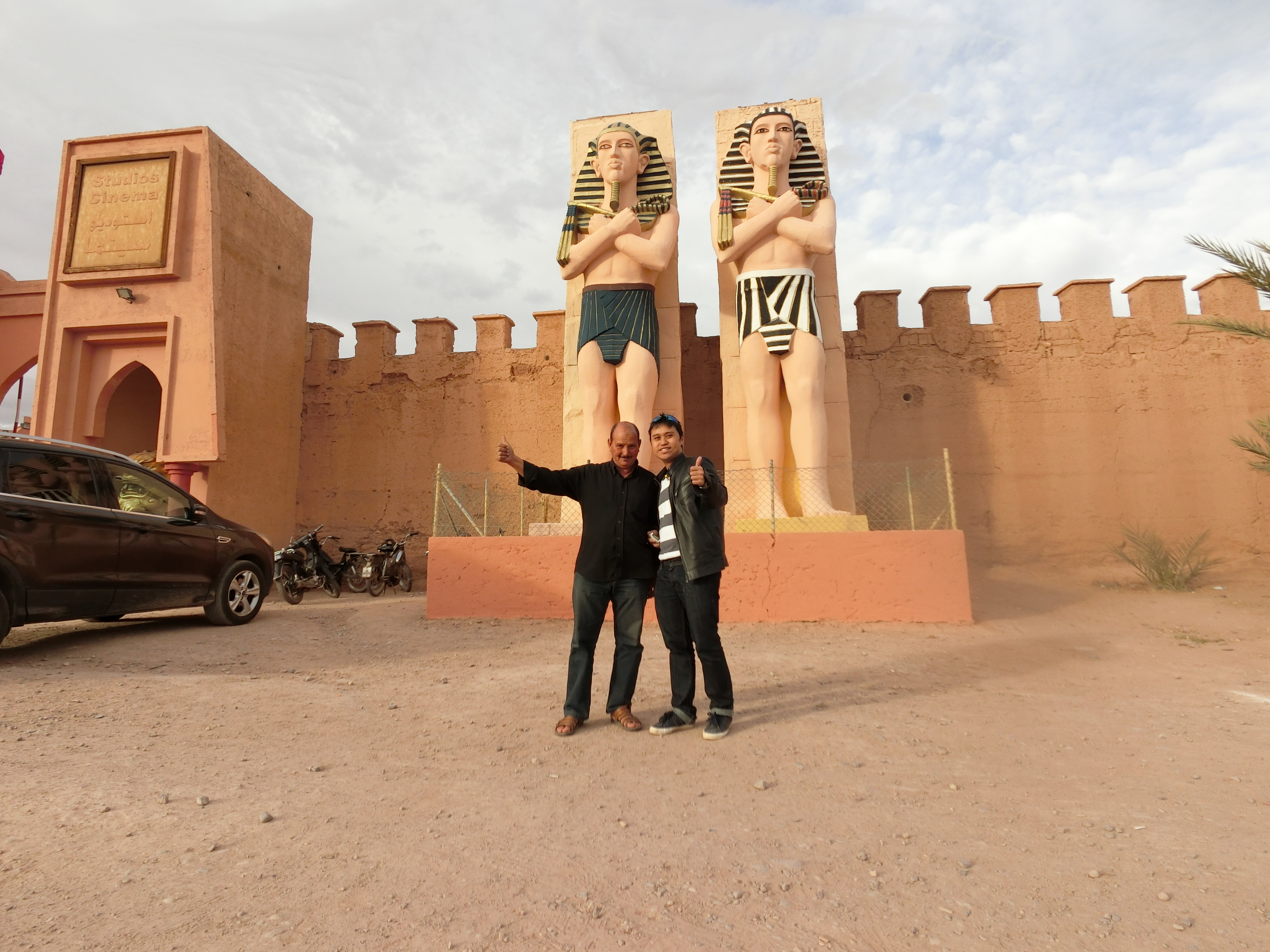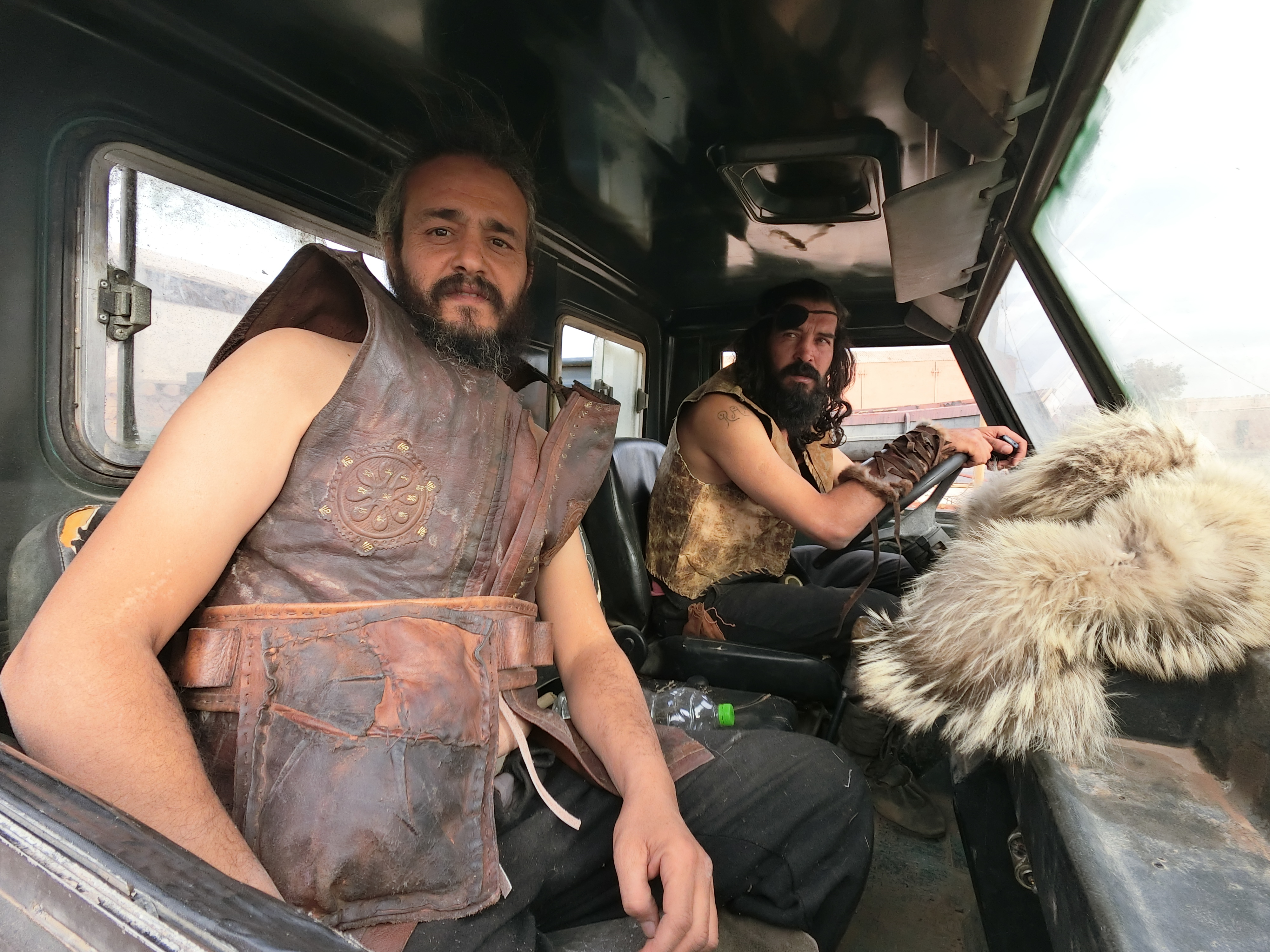 How to get here?
Ouarzazate has an airport with flights from Casablanca and twice weekly flight diectly from Paris. The airport is suitated 2km away from the town centre. Other than that, I took a bus from the big city of Marrakesh Train station. The bus terminal is beside the train station, located beside Ibis Hotel and one can find it easily. Take the bus that goes from Marrakesh towards Mergouza. You will alight along the way, inform  driver you will stop at Ouazazate. The bus journey will take approxmiately 4 hours. I took the SupraTour bus that departs 8.30am and arrive into Ouarzazate at 1pm.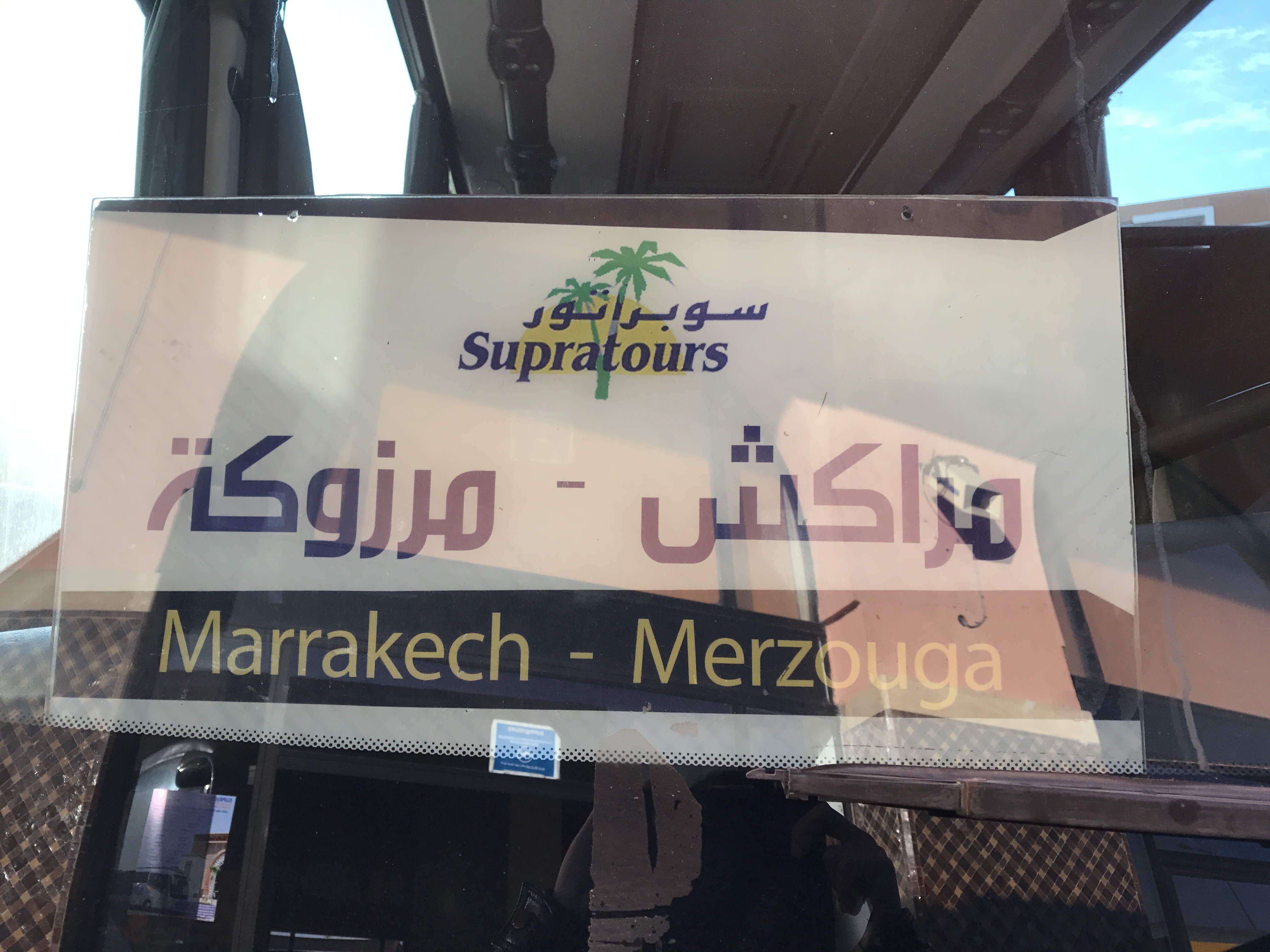 The journey costs 90 Diharms (Moroccan currency). An extra 5 Diharms is require for each bag to be stored at the bus luggage compartment. Highly recommended as one able to enjoy great scenery as it journeys the way through the high altas mountain range. There will be one rest stop lasting around 20 minutes.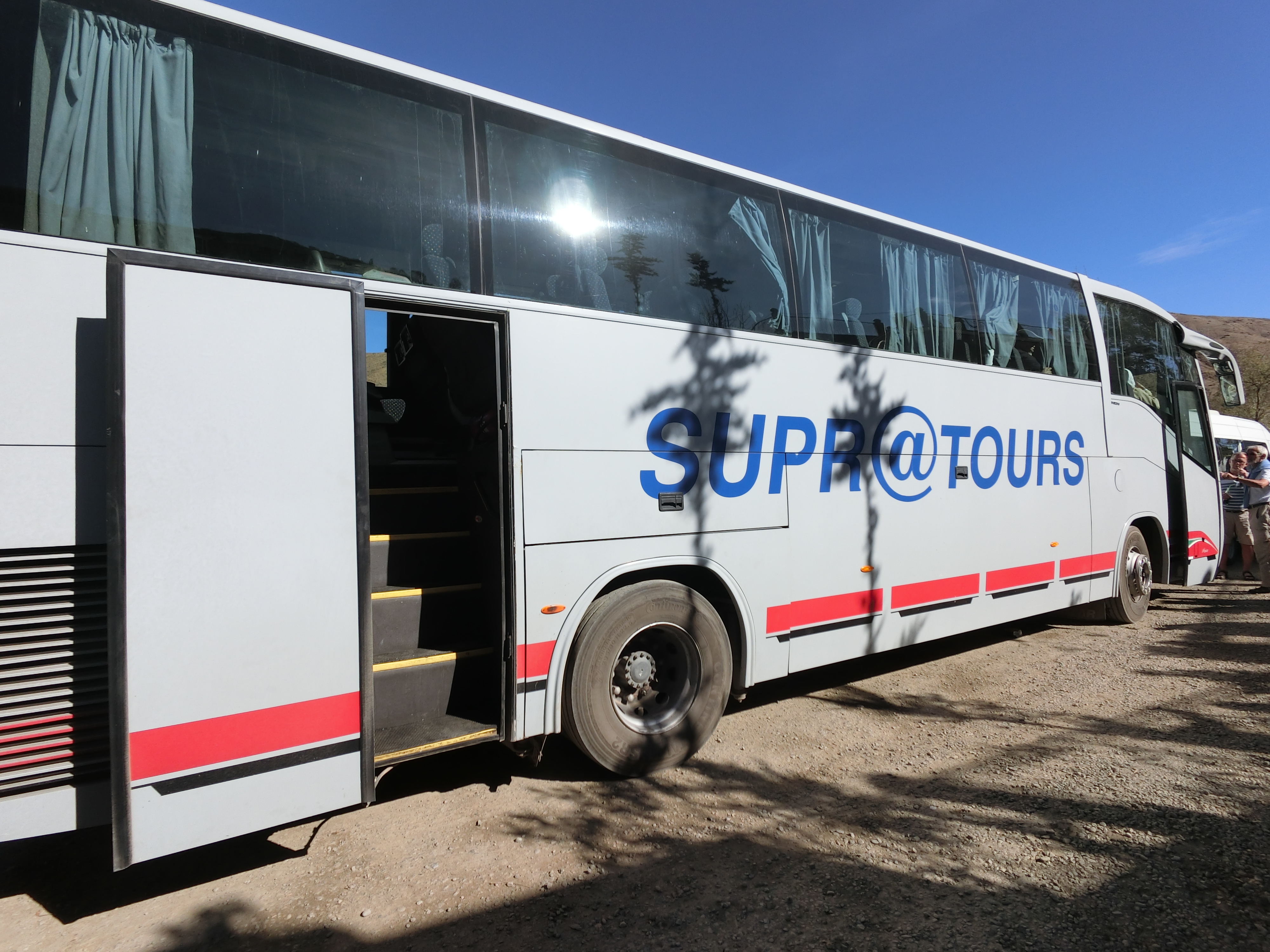 The SupraTour bus will arrive into the town at this small shop outlet. Many petits taxis will be in the vicinity should you require transport to your hotel.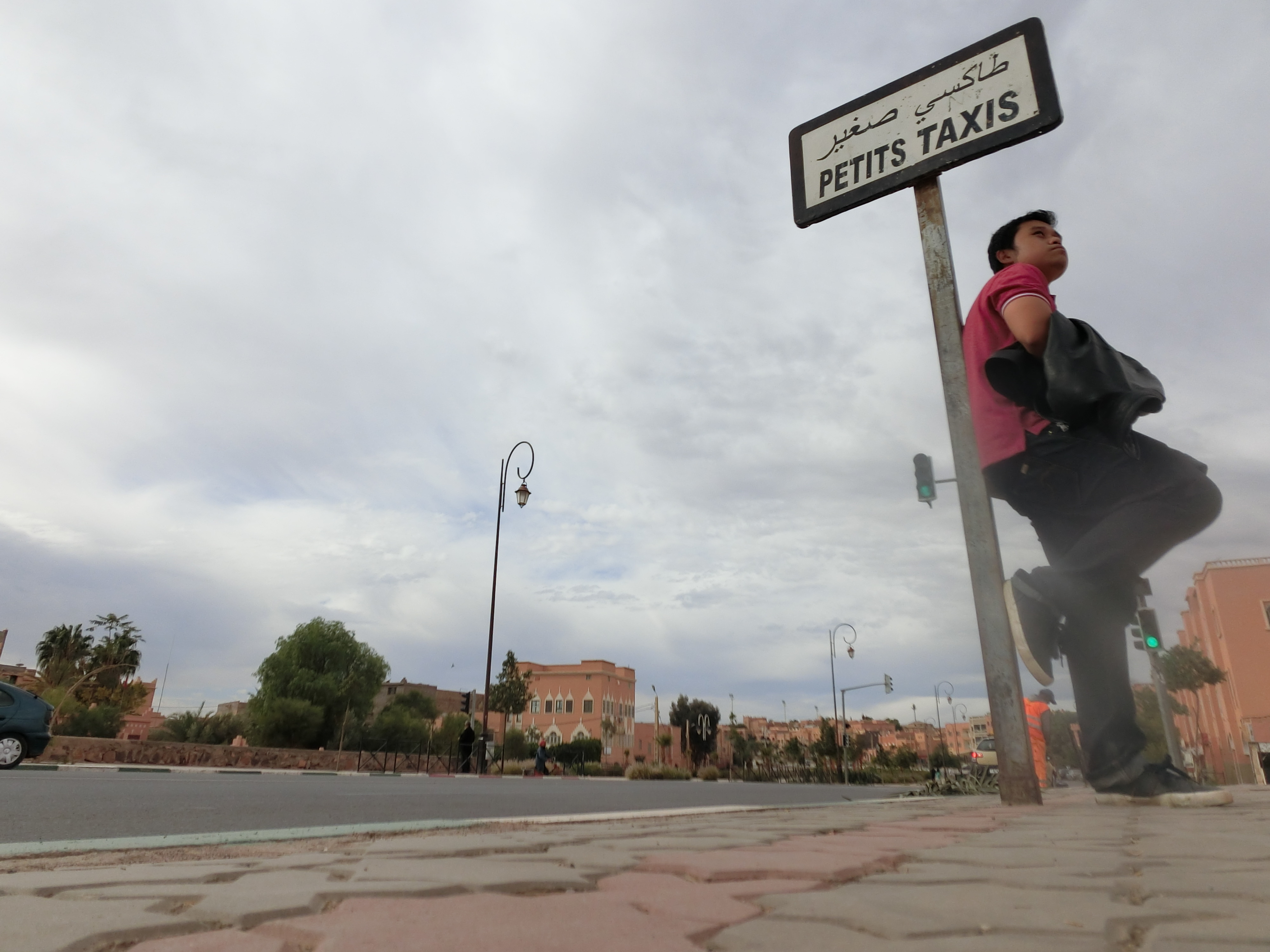 Where to Stay?
I had make the right choice of checking myself into Le Petit Riad, a guest house in Ouarzazate. When you are in Morocco, I recommend to stay at least a night in the Moroccan accomodation style which is often known as Riad. Le Petit Riad guest house is suitated just across the airport runway, giving one perfect opportunity to view aircraft as they land while sipping away a warm of hot coffee under the chilly weather. I went in November period, temperature was between 12-19 degree celusis.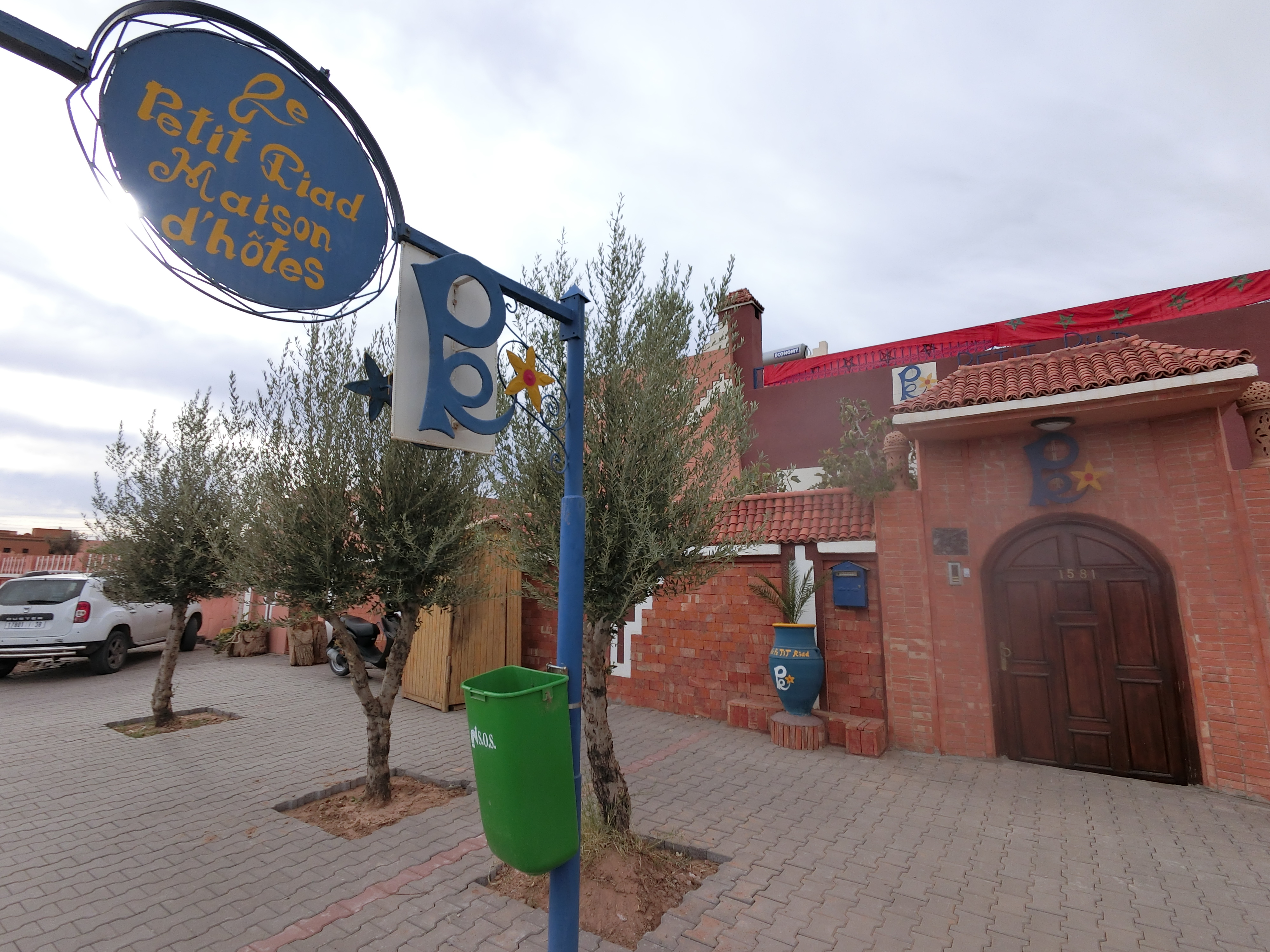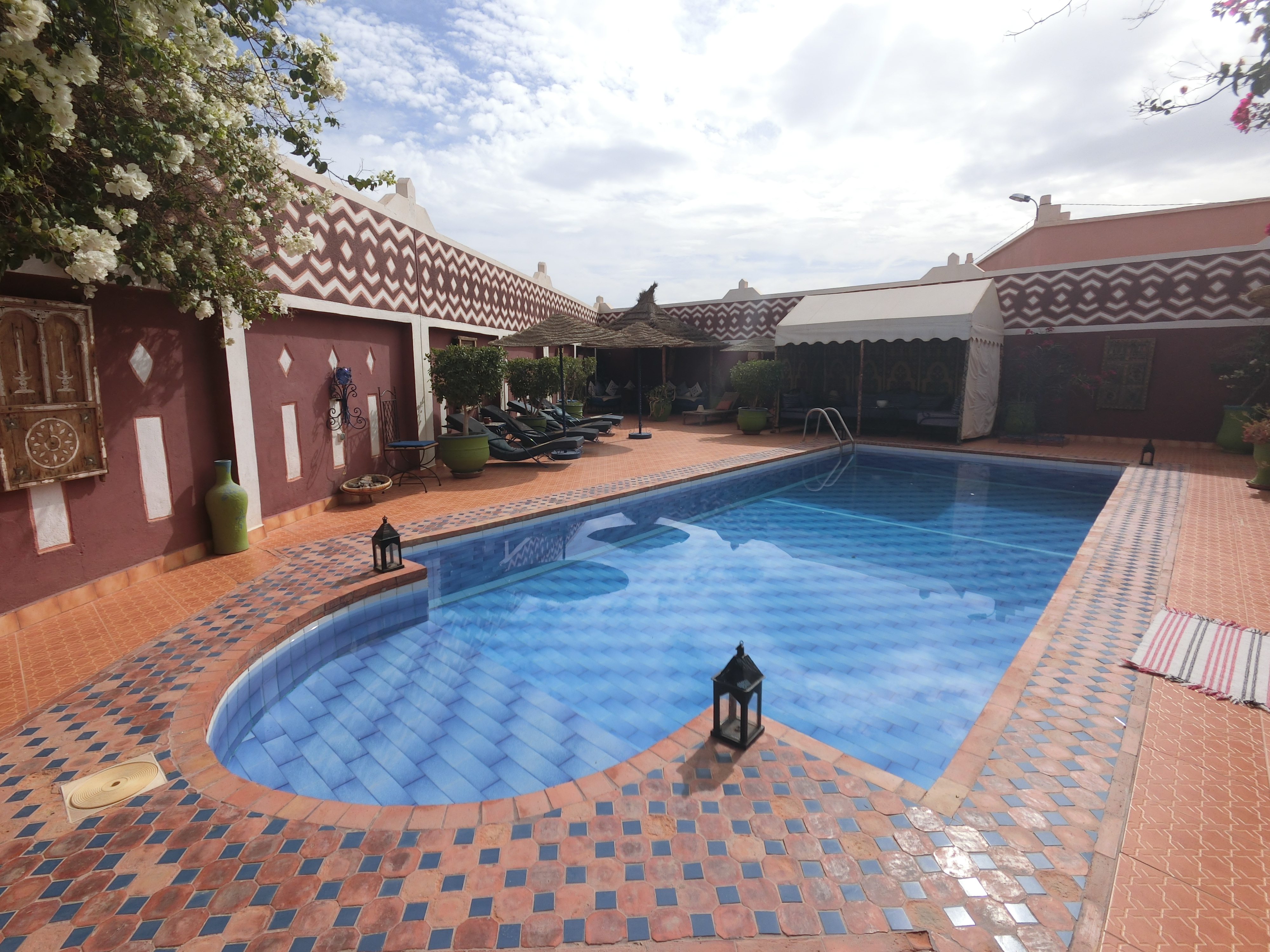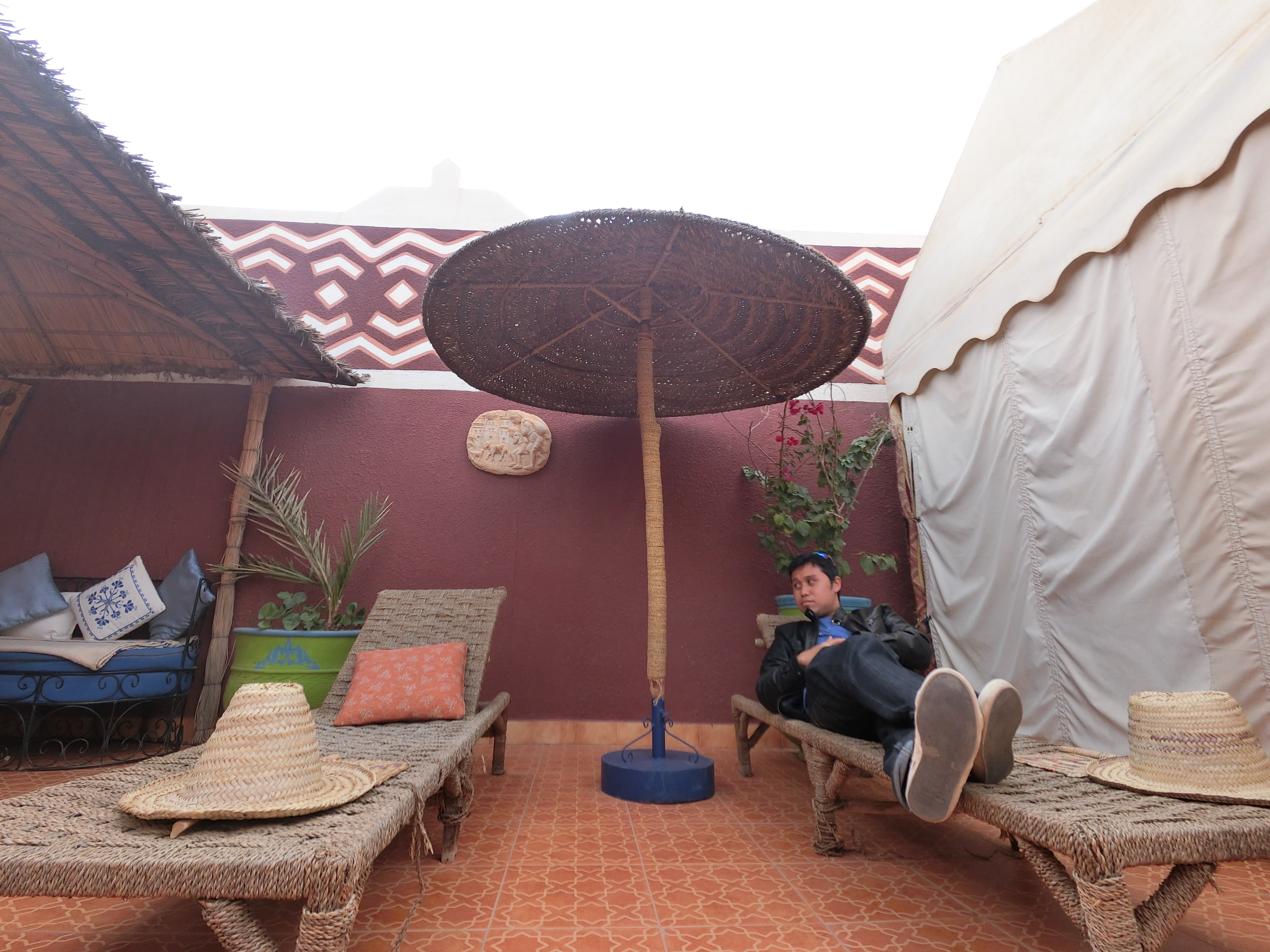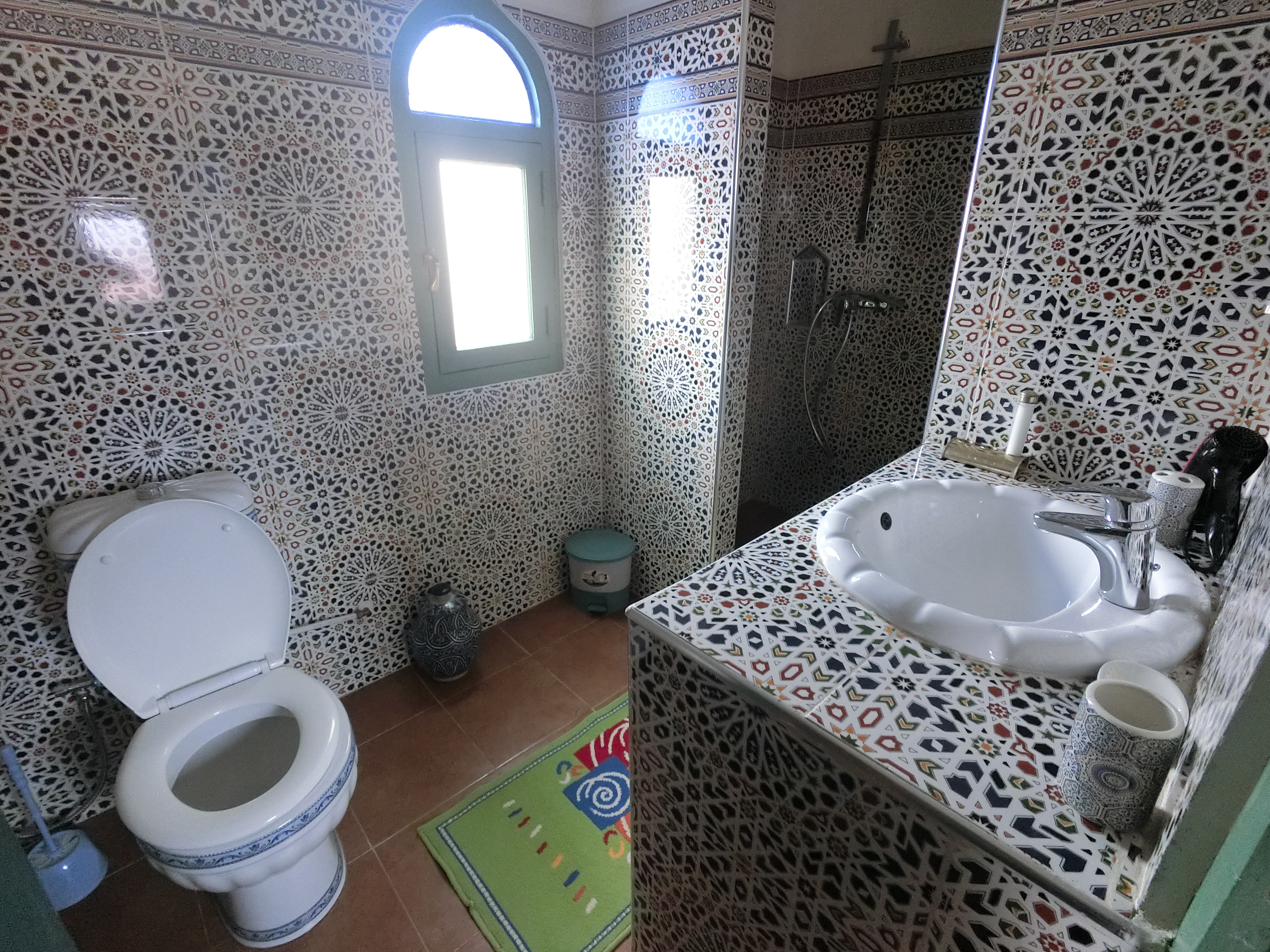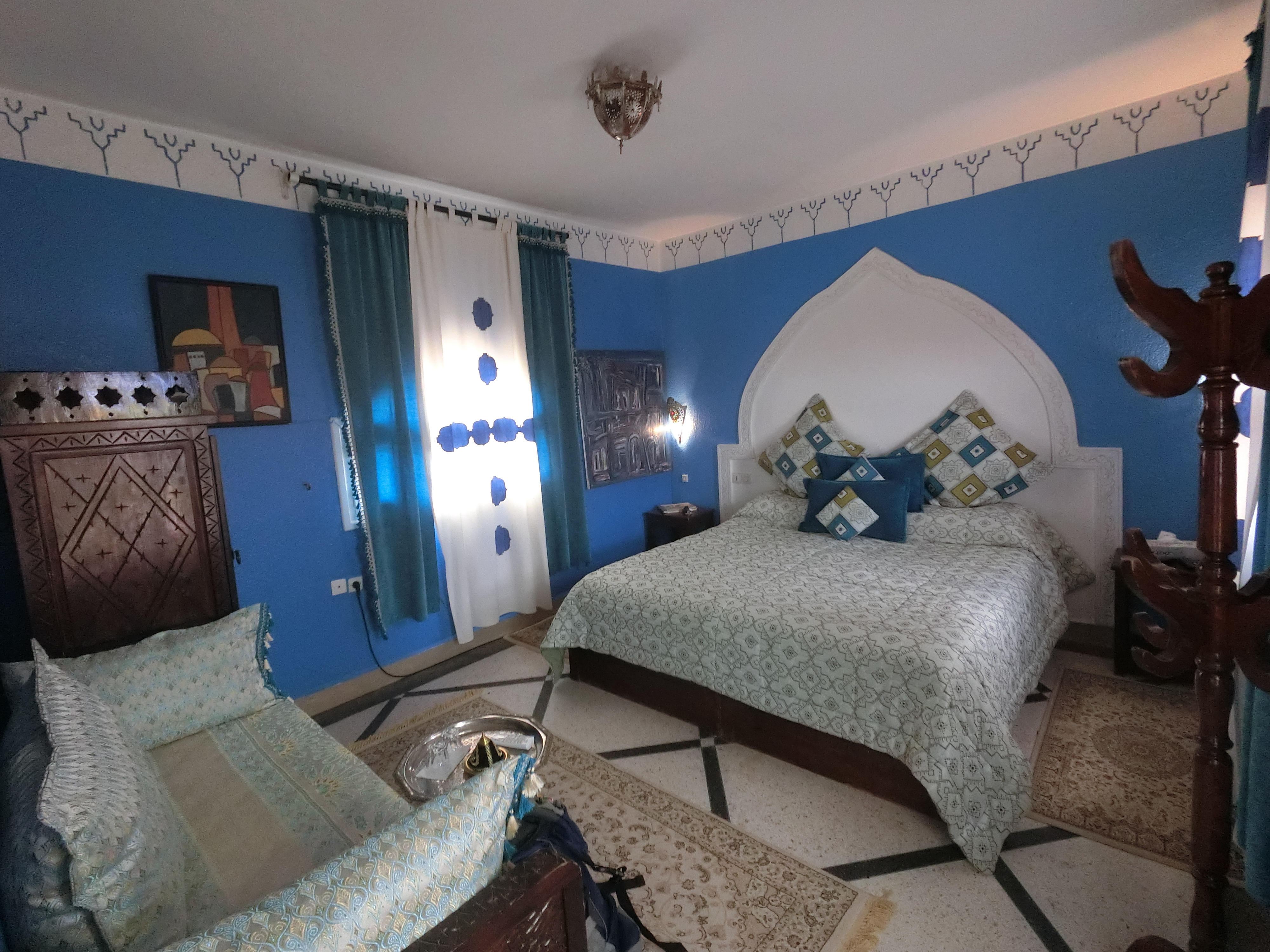 Fatima is the friendly owner of this guest house (riad) who told me this was actually her own house back in 1992 when it was first purchased. She had converted it into a riad thereafter recently. The service was awesome as she ensure all her guests are settled in nicely for the stay, bravo!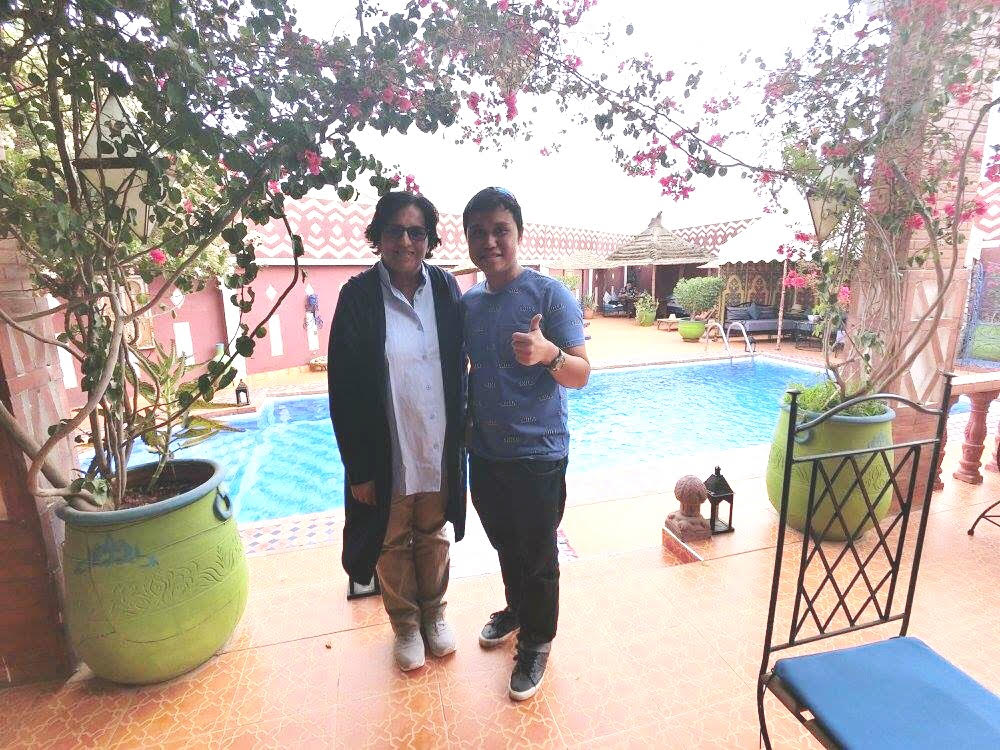 The room prices comes are also valuable in terms of what one can get from this riad stay experience. There is bascially low season (Nov- mid March, June- Mid December) and peak season (Mid March – End of May, Mid December –  early January). You may like to check their room rates on Booking.com or major hotel portal website easily. One can choose either to have just room and the breakfast or can have the dinner included too.
Bascially, I would recommend to have the dinner included. Firstly, Ouarzazate is a small desert town. There is not many choices. Most importantly, the dinner cooked by Fatimah is one of the best meal I had in Morocco! It taste so delicious! Never regret having my dinner at Le Petit Riad.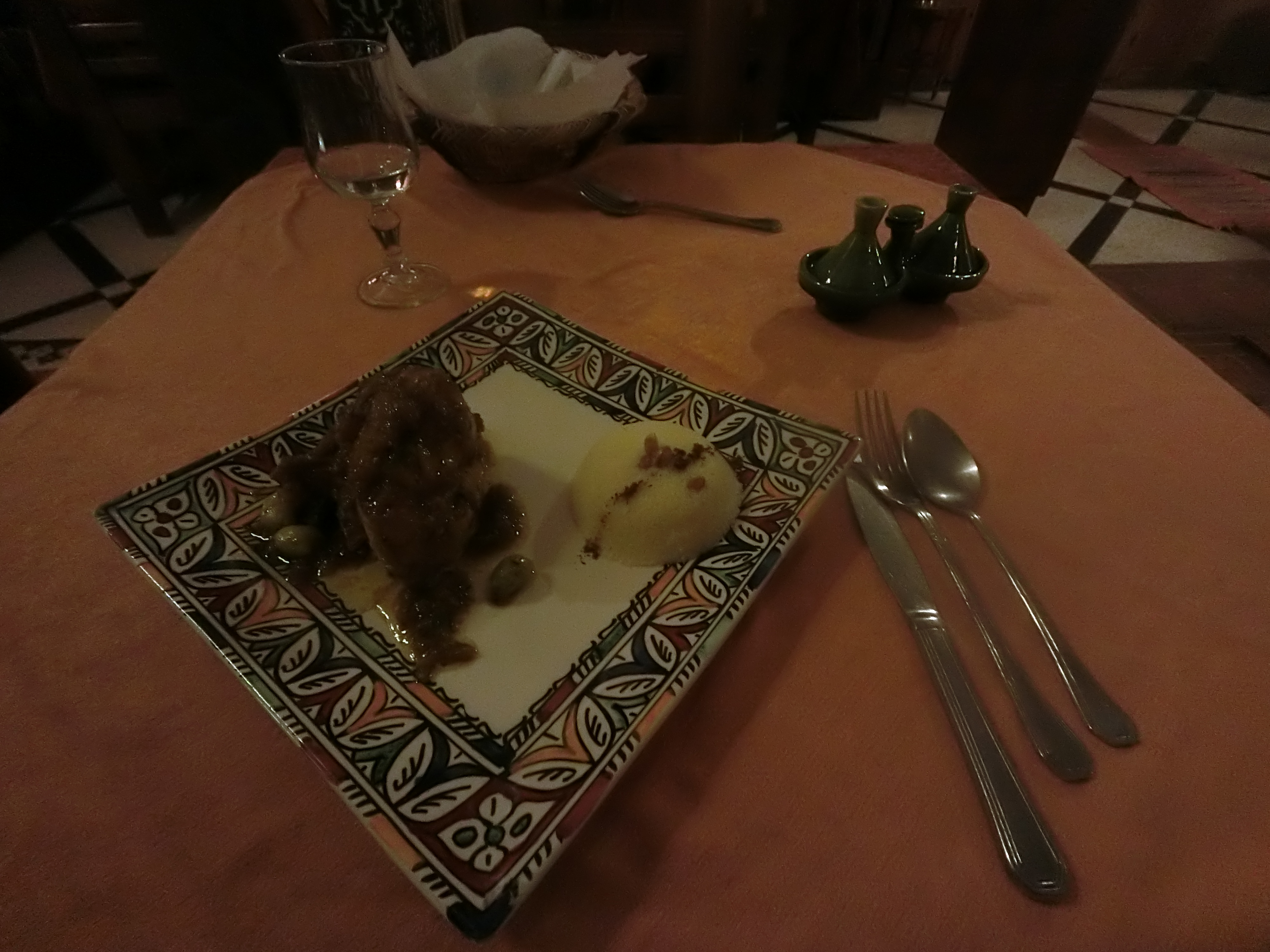 The rooms are decorated so nicely and with the big beds and many pillows available, the sleep was simply awesome! One could wake up feeling more energetic. What's more, the breakfast on offered was too delicious to resist!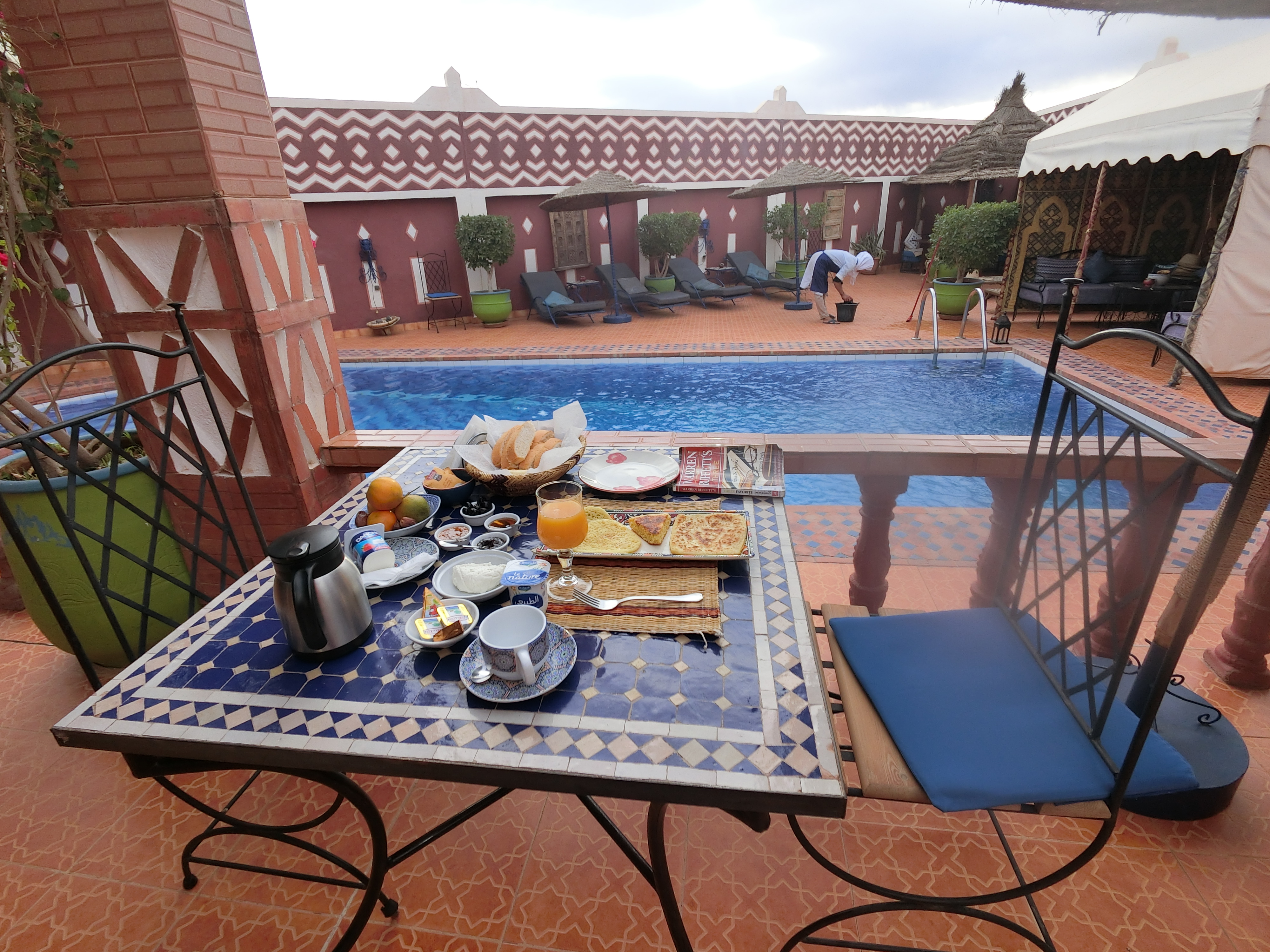 This was what I got for 1 person breakfast. Everything tastes so good and I must say that the food quality is superb. The jam and fruits were so fresh and I simply enjoyed it over looking the swimming pool.
You can check out more information to book at their website: http://www.petitriad.com/en/guest_house_ouarzazate
Tip: Arrange a car transfer by informing the hotel directly on their above website to pick you up from SupraTour drop off point to the riad. It is very convenient and hassle free! By the way, did I mentioned that they received an excellent rating of 9.4 on Hotels Combine.
Address:1581 / 1582, Hay Al Wahda – Ouarzazate – Morocco

Telephone Number:(+212)5-24-88-59-50    WhatsApp: +(212) 6 77 38 99 17
Email : petitriad@gmail.com
What to do in Ouarzazate?
Ouarzazate main tourist attraction would be the Altas Movie Studio, Ait Ben Haddou and can be used as a transit town when one is heading to the Sahara desert. In fact, I find that this town has its own charm and love the peacefulness of what it offers.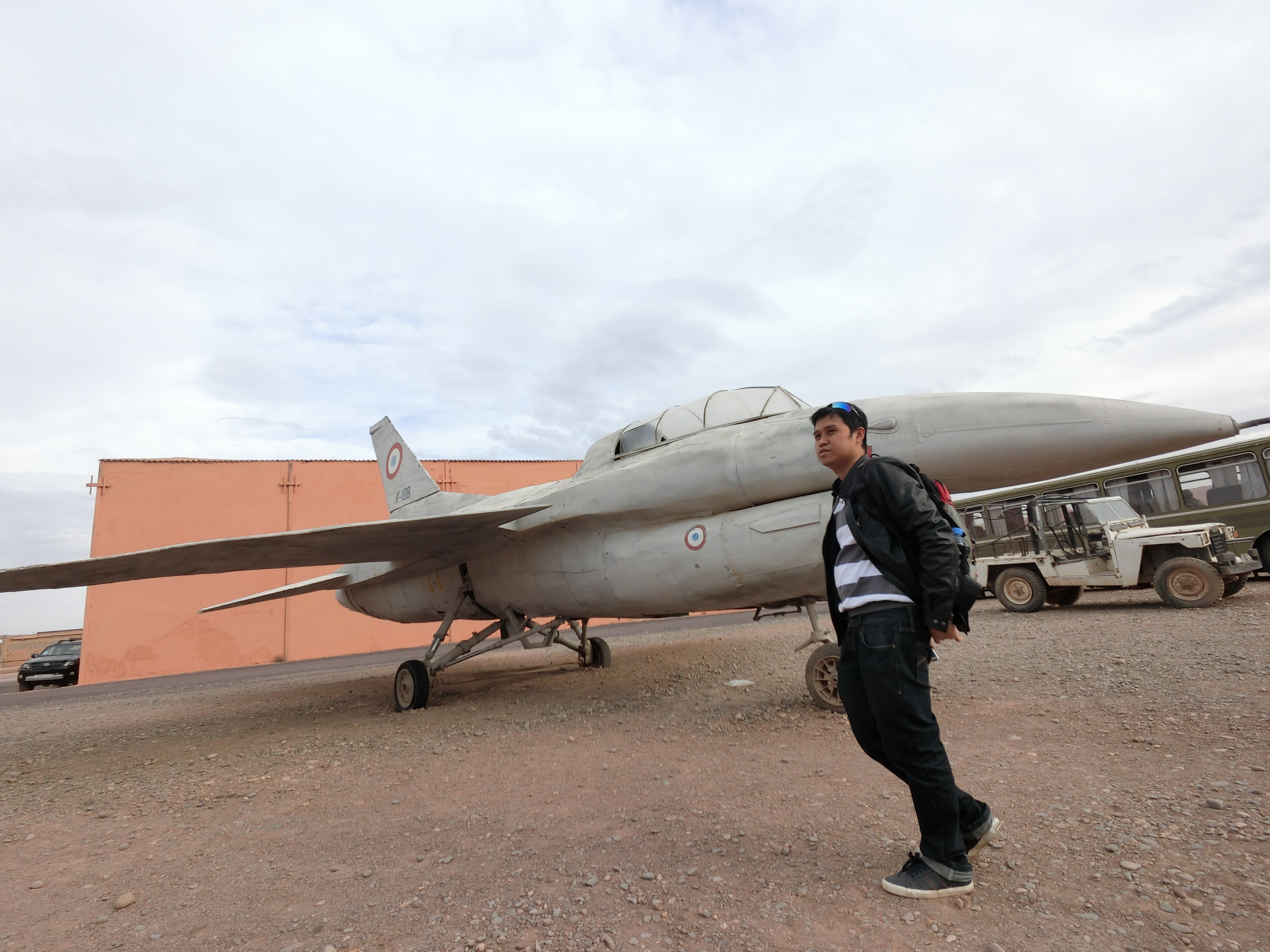 Ait Ben Haddou is located 32km north east of Ouarzazate. The high defensive walls of Ait Ben Haddou has burst into fame as this is often the backdrop setting of major Hollywood films such as Gladiator. It has the postcard perfect background for toursit to take picture. There are few buses to Ait Ben Haddou so the best bet would be to hire a grand taxi to embark on this 20 minutes drive from Ouarzazate town. To reach the Kasbah, one will have to walk across the bridge.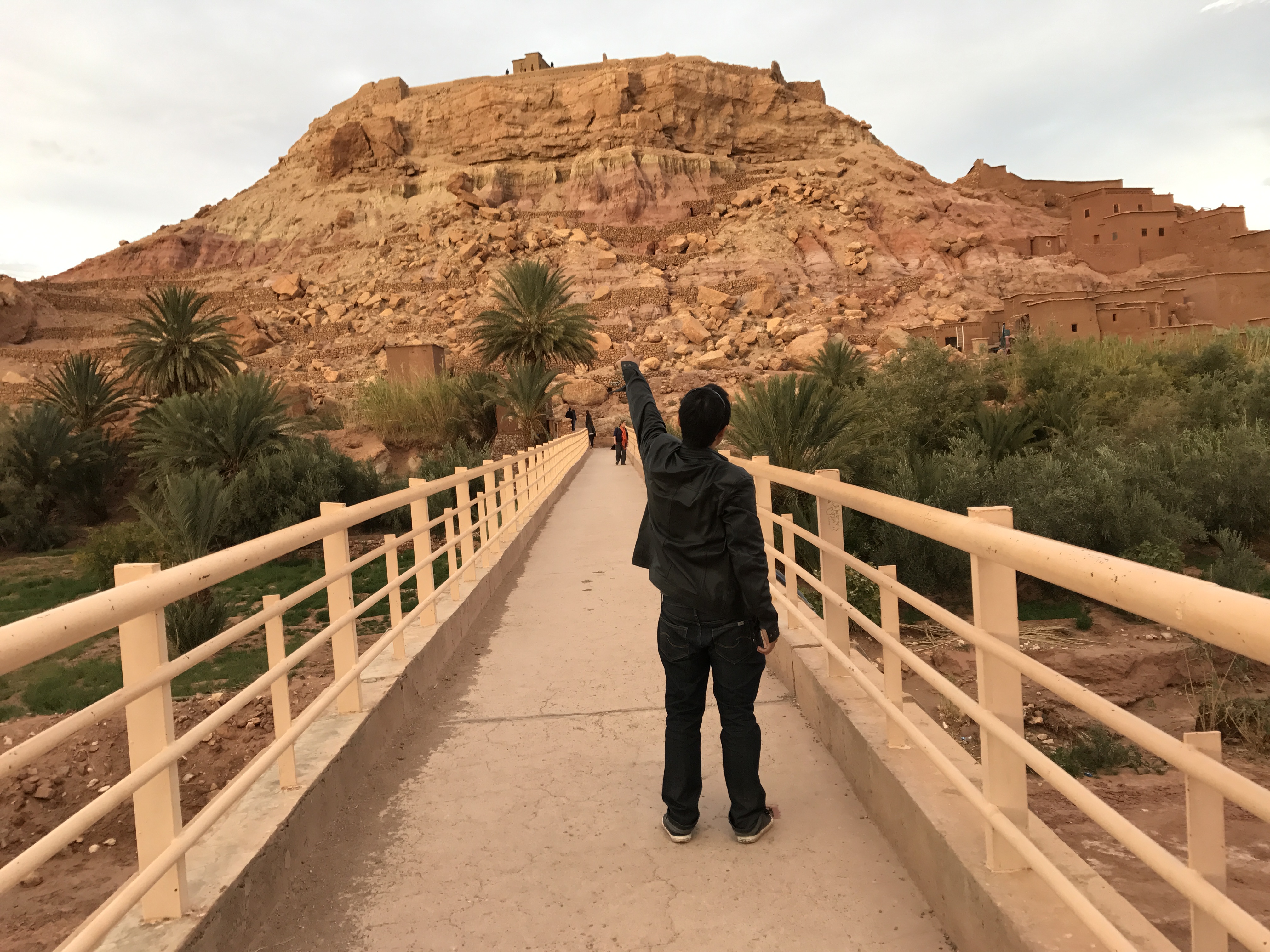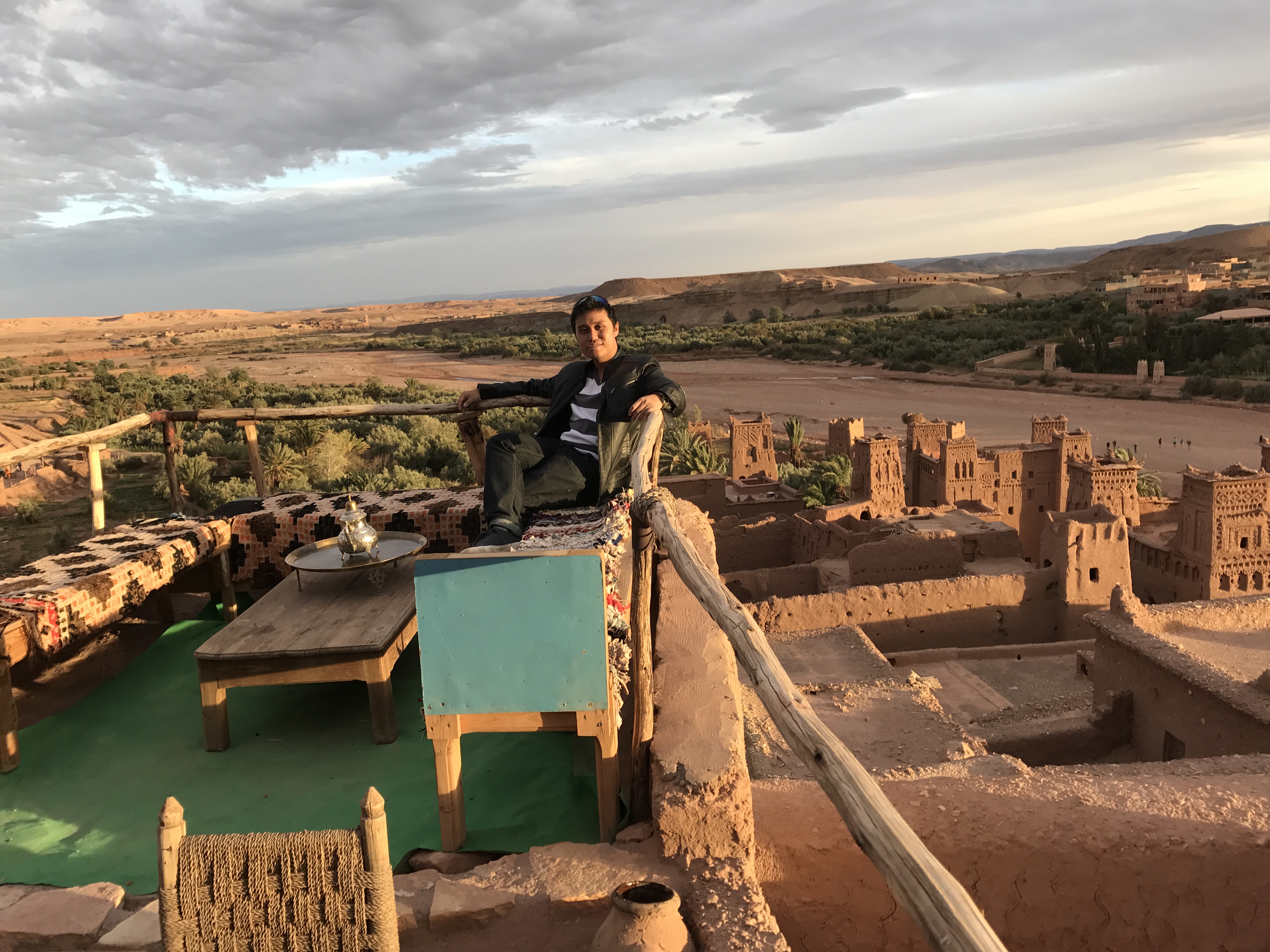 Ride a ATV. If you are looking to be more adventurous, why not head out to the many shops that rent out quad or ATV from the semi-desert landscape around Ait Ben Haddou to a beautiful desert oasis called Fint 45km away, a palm oasis with magnificent rock formations.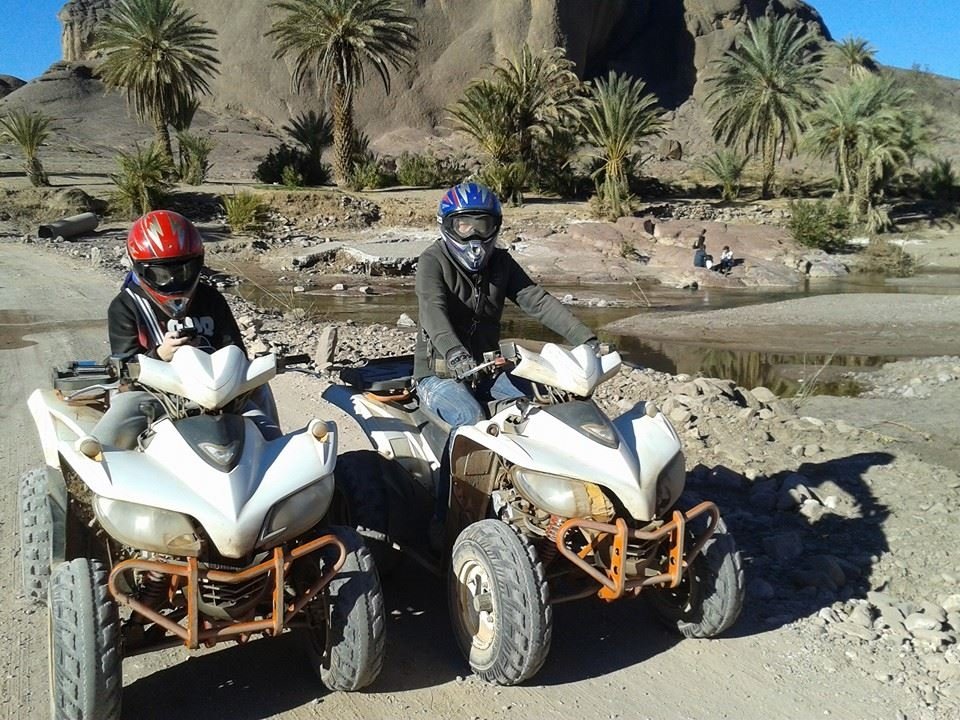 Visit the famous ATLAS Film Studios, created in 1983. It is 20hectares wide and offers professional filming services. When I was there, I could see the locals dressing up like ancient Egyptians with the director and camera crew discussing on the next scene. Do note that should there be a filming taking place, part of the section may be closed. One could find many treasures from the fake Egyptian monument to artificial sports cars and aircrafts. You would be enjoying taking all kinds of crazy pictures. Here I was making some friends with the local boys. Almost everyone in this town would want to be a movie star.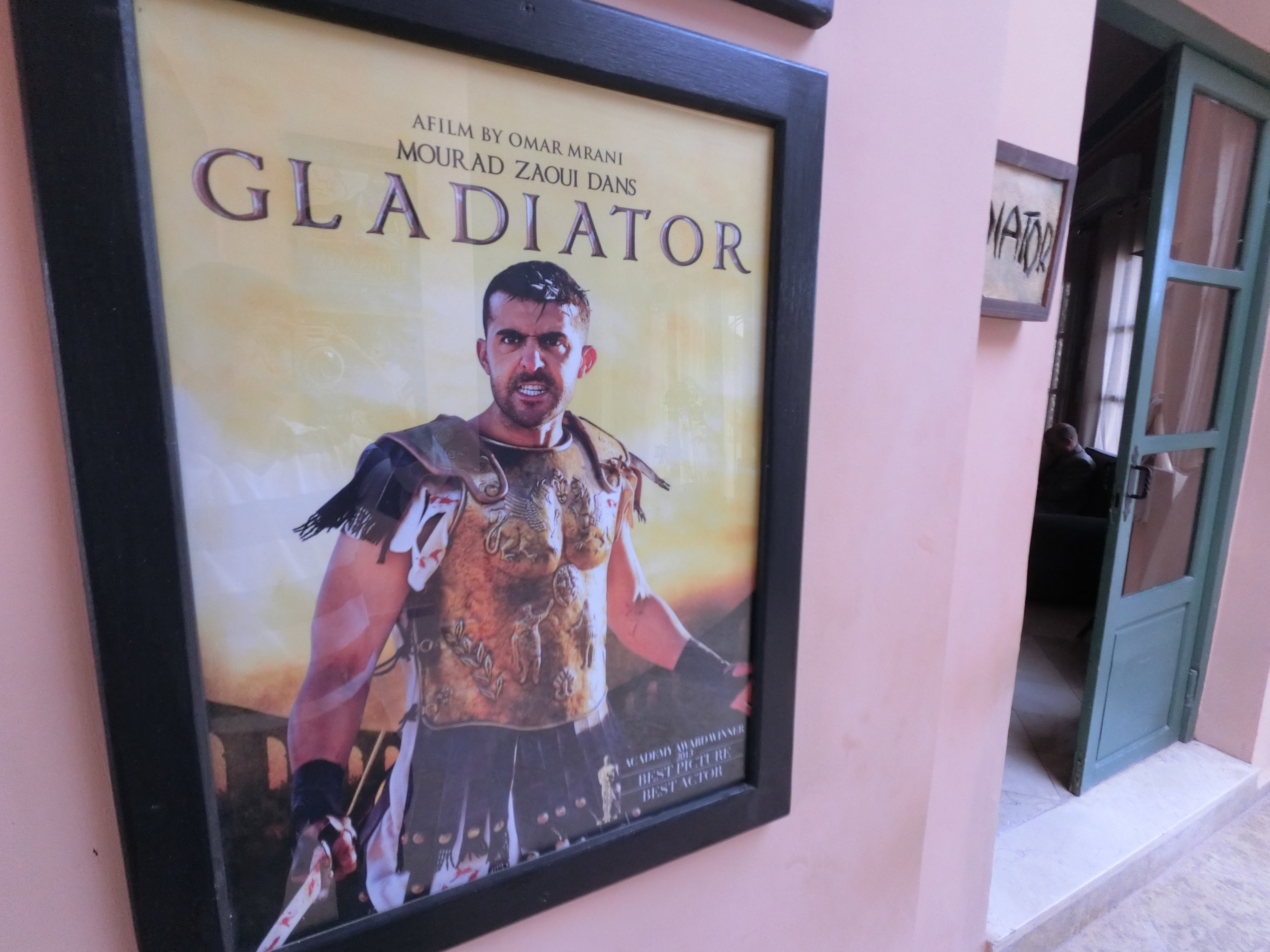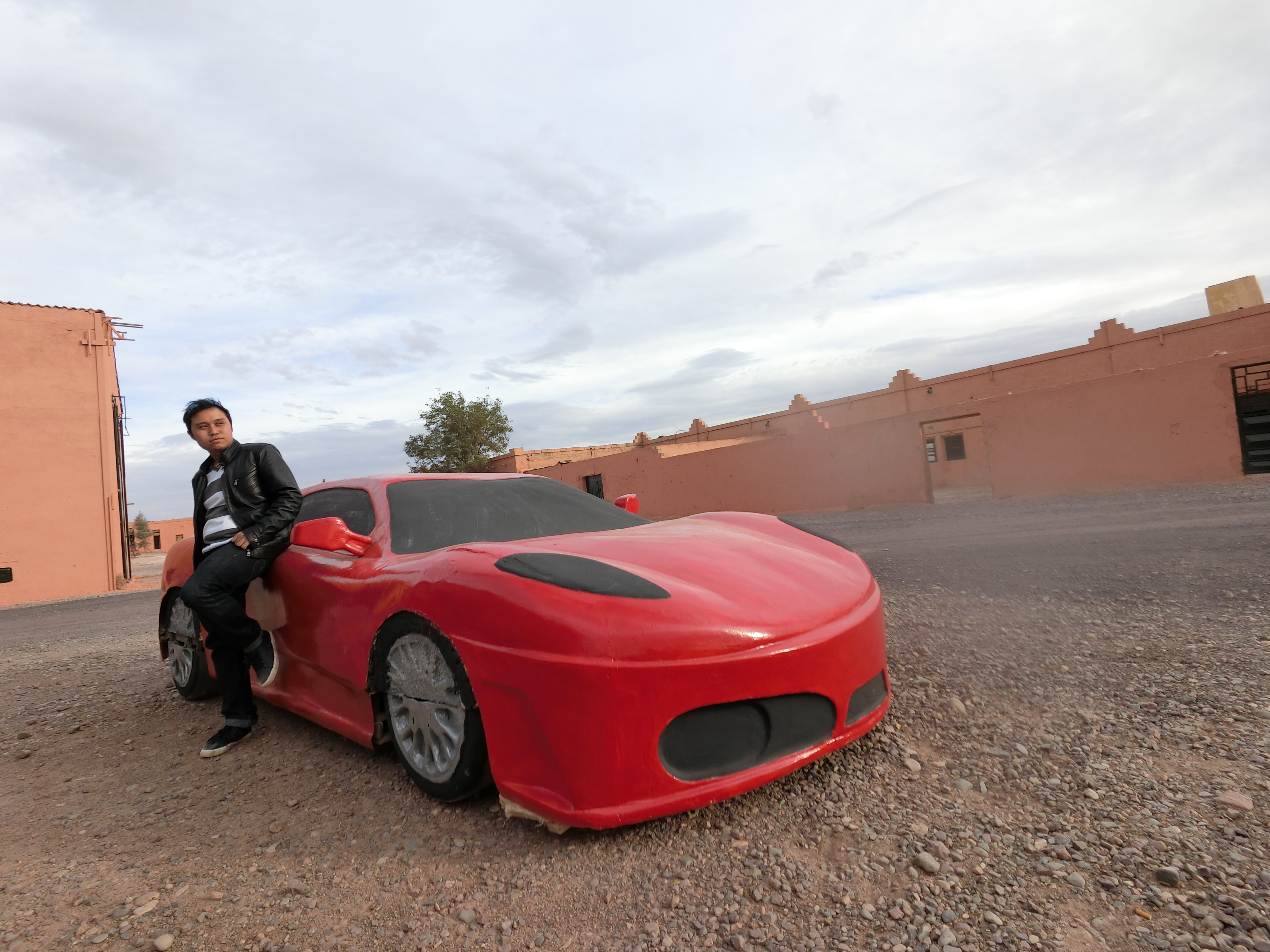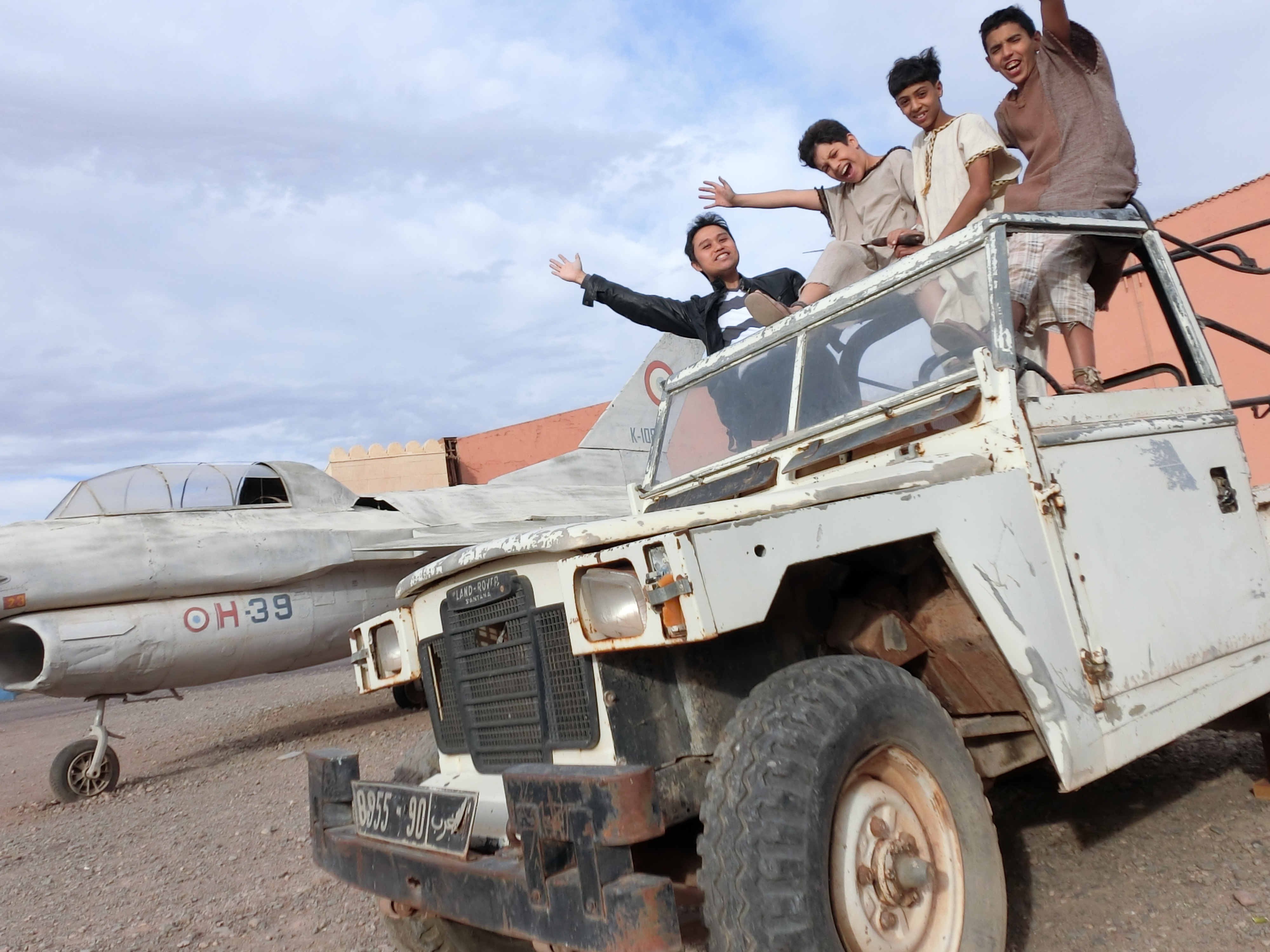 Alternatively, one can visit the CLA Studio. The place is not so crowded with tourists makes it even greater to have the place more or less on your own. The local guide  would tell you interesting stories about the movies and series which were produced there. One will find a huge kasbah which was often Filmed as Part of Jerusalem.
Go ahead and bask in the glory of a moviestar in Ouarzazate. For the entire list of itinerary and places to visit in Morocco, check out the post here. In additional, below is the YouTube video on how one can experience Ouarzazate! You got to be here if you are heading to Morocco!
Categories: Africa Region