Itinerary: 9 Days Morocco Trip
15th November 2017
Article
Thinking of covering Morocco but do not have enough time to do so? Here is the itinerary I had planned out to cover the main attractions and see the best of what Morocco have to offer within 9 days. It would be ideal if one have 14 days in order to fully explore Morocco.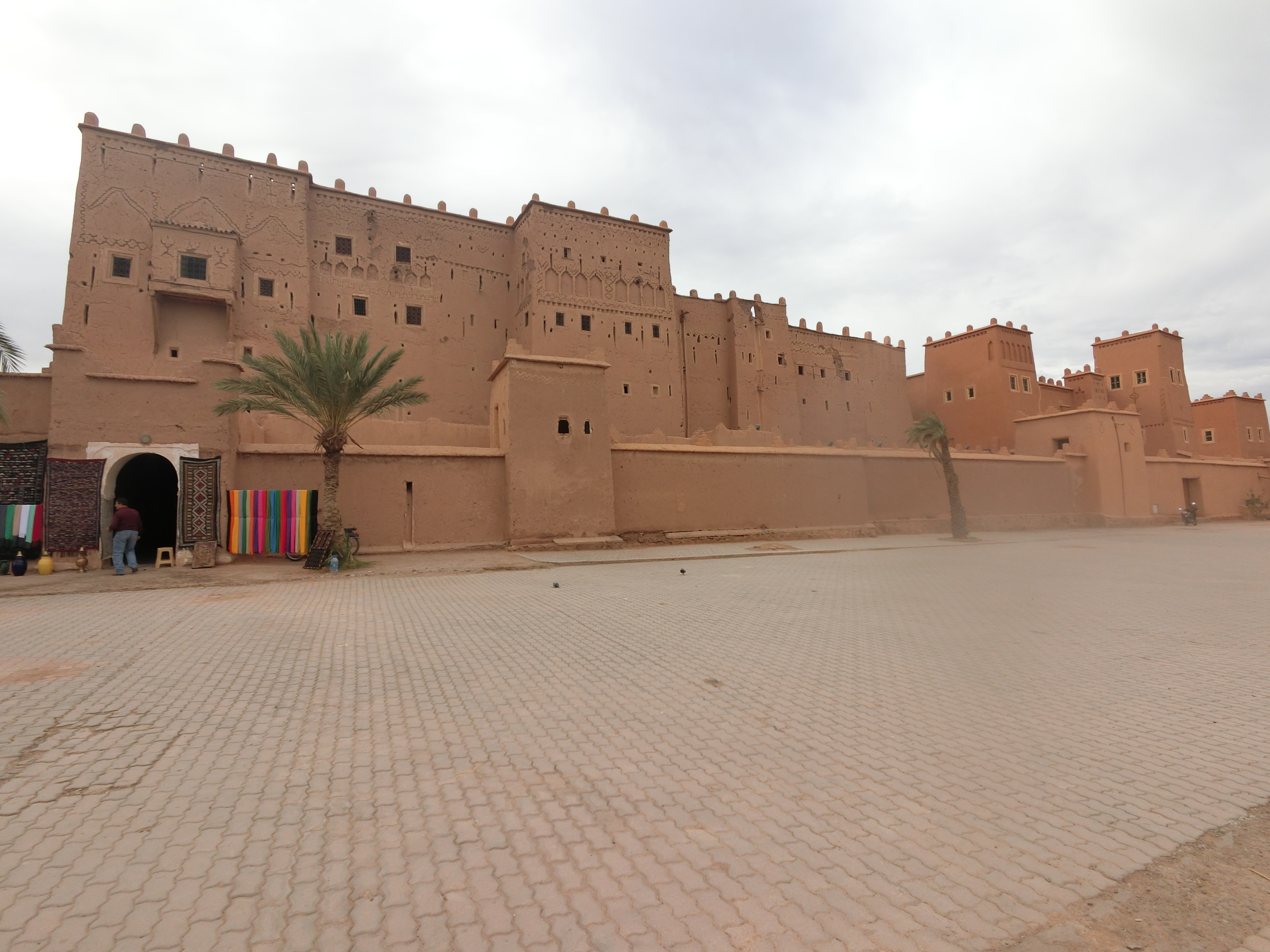 Before heading into the itineary, I have recorded down my expenditure in Morocco based on Singapore (SGD) Dollars.
Flights (Singapore to Morocco): SGD$479   [Emirates and Qatar Airways]
Travel Insurance: SGD$45.75
Wifi: SGD$7   [6GB Data, purchase upon arrival at Casablanca Airport]
Transport: SGD$250.80  [Includes Train rides, Buses, Taxis]
Food: SGD$88.70
Accomodation: SGD$78.20
Attractions: SGD$45.80
Shopping: SGD$20.70
TOTAL: SGD$1015.95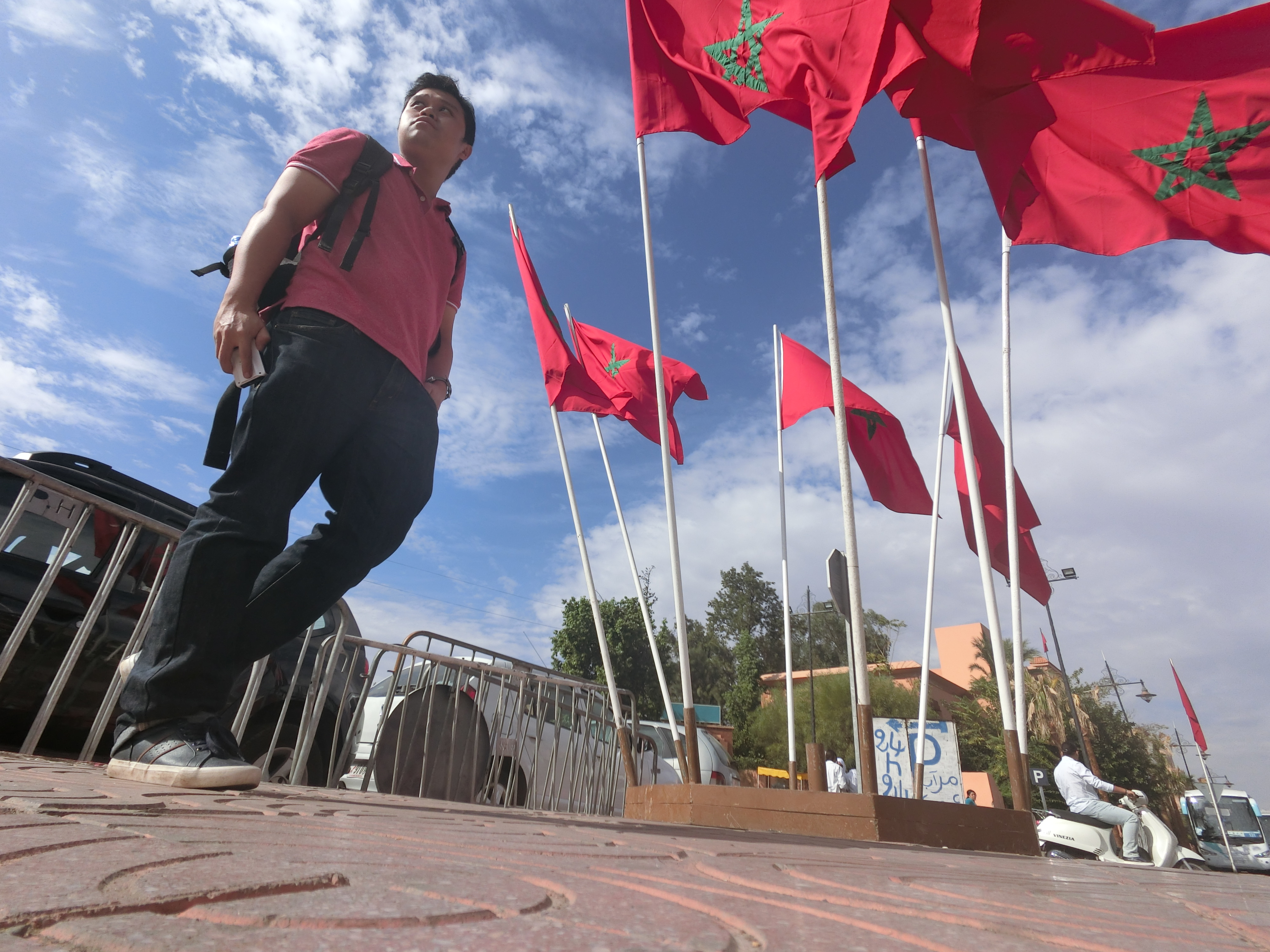 ==============================================================================
Itinerary: Morocco Trip   (9 Days / 8 Nights)   
Day 1: Depart from Country of Origin – Casablanca
– Arrive Casablanca.  Buy tickets at Basement 1.
– Train depart from airport to local city Train station of Casa Voyageurs.  Price: 43Dh
– Arrive Casa Voyageurs, walk around train station area.
– Take another  train from Casa Voyageurs to Marrakech. Train ride (3hr 30 mins) Price: 95Dh
– 1830H: Arrive Marrakech
-1900H: Taxi from train station to around Jemaa el Fna is around 20Dh.
(20 min ride)
– Recommended to stay near Jemaa el Fna  as night market scene is vibrant and close to major tourist attractions.
– 2000H: Tour the night market ; Have a dinner feast at Jemma El-Fnna (famous public square) in Marrakech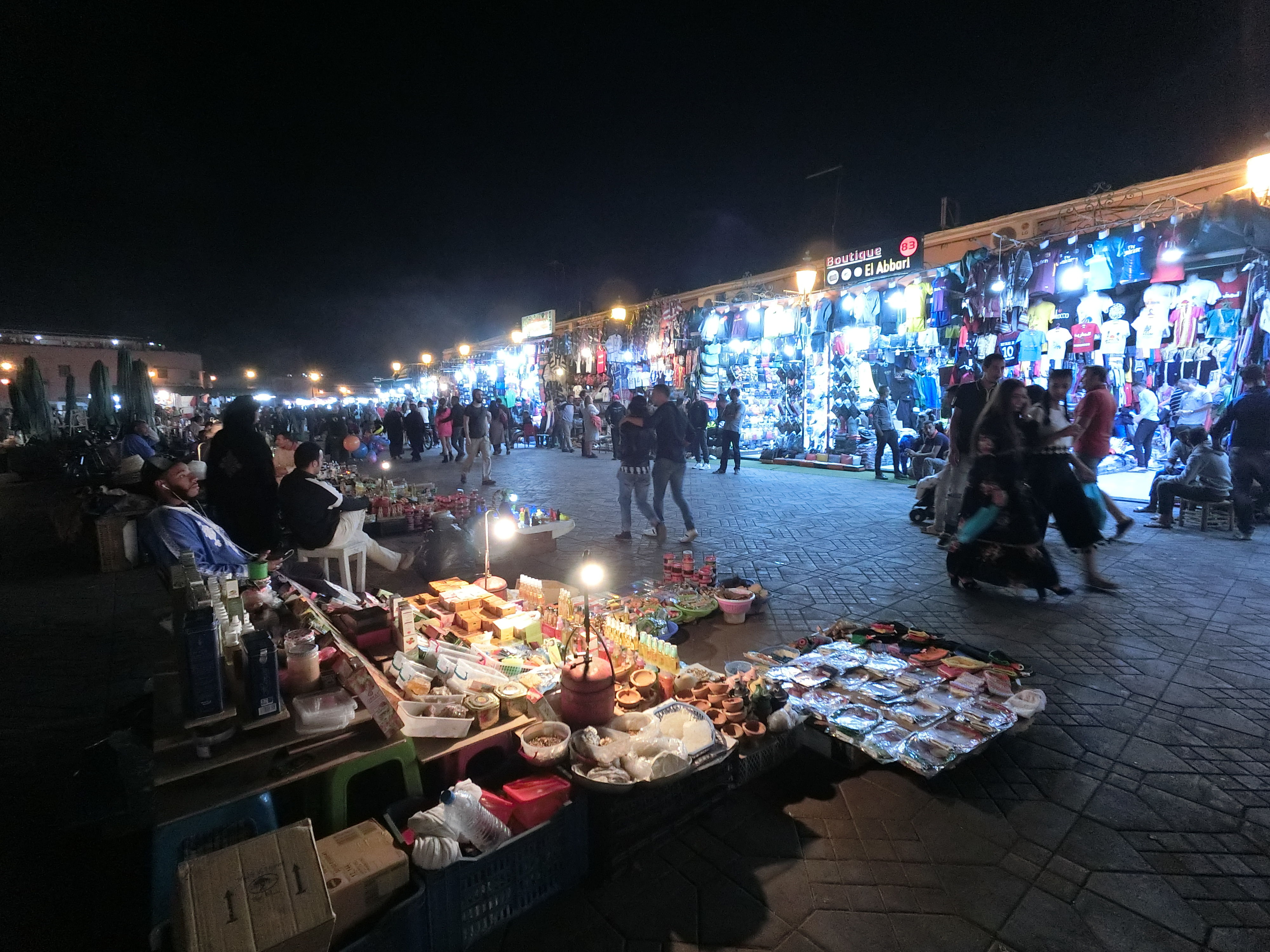 Day 2: Marrakech
–Visit Ben Youssef Madrasa : a Quranic school, dedicated to the teaching of Islamic scripture and law
-Visit Koutoubia Mosque: The minaret of the Koutoubia Mosque, Marrakech's most famous symbol
-Visit Saadian Tombs: Flanking the south side of the Kasbah Mosque, the site of what is possibly Marrakech's most visited monument is an ancient walled garden
-Visit Marrakech's pungent tanneries: Situated in the northeast of the medina, the tanneries cannot be missed. With an overwhelming smell and many invitations from people in the streets, you'll easily find your way to the tanneries.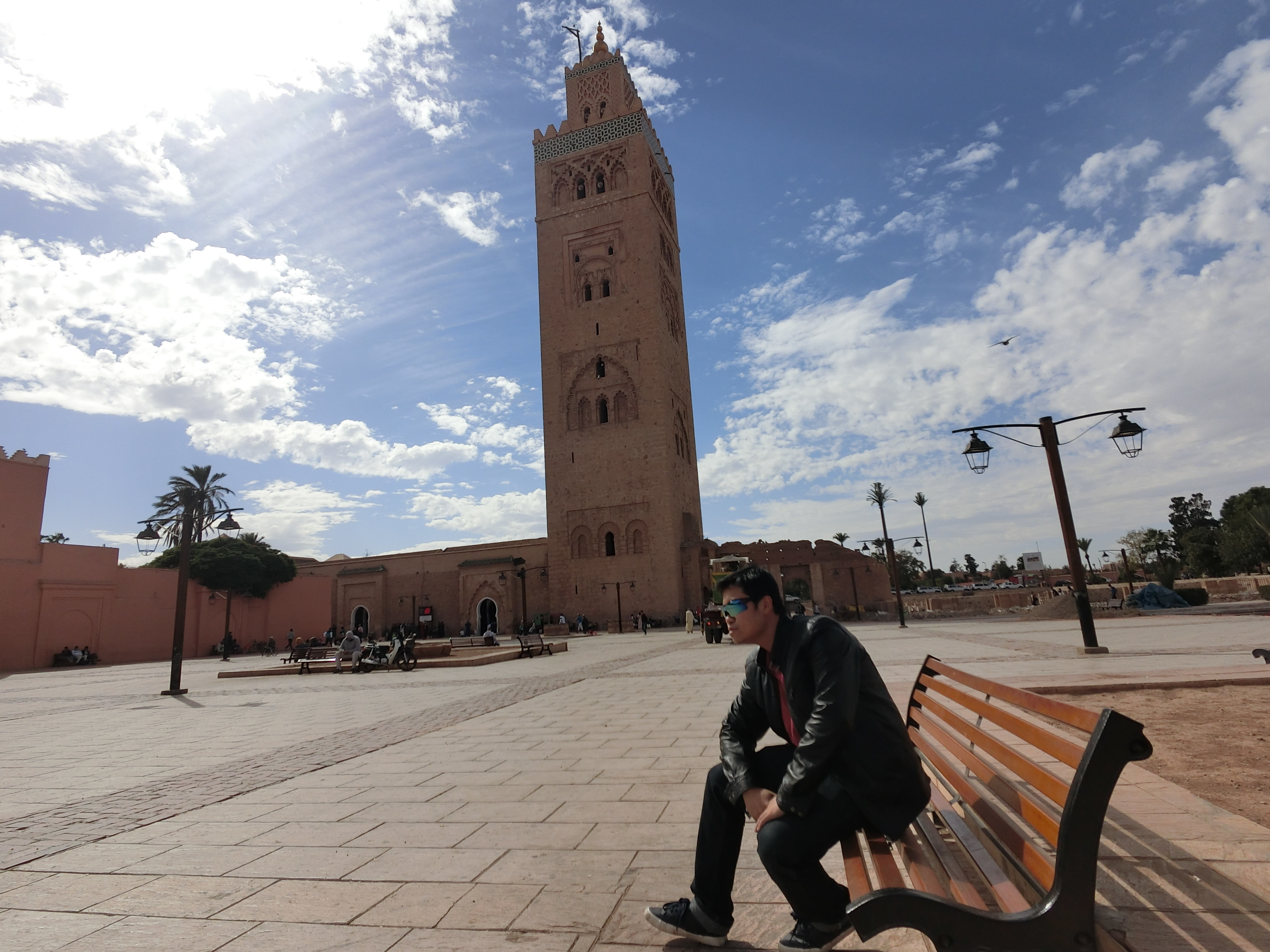 Day 3: Marrakech – Ouarzazate
– 0715H: Make way to Supratours Bus station Marrakech is located in Gueliz. It is also adjacent to the Marrakech Train Station (Near to Hotel Ibis)
– 0830H: Supratours Bus depart Marrakech to Ouarzazate (Duration: 4.5 hours )  Price: 90Dh
* Note: 5Dh for each large item of luggage to be stored underneath of the bus. No big luggage are allow to bring on board the bus seat.
– 1400H: Check-in at: Le Petit Riad Maison d'hôtes classée in Ouarzazat. They can arrange for someone to pick up at Supratour  alighting point.
– 1430H: Hire a grand taxi to take you to Ait Ben Haddaou (Free Admission)  & Altas Film Studios (50Dh)
– 1830H: Arrive back to Hotel in town.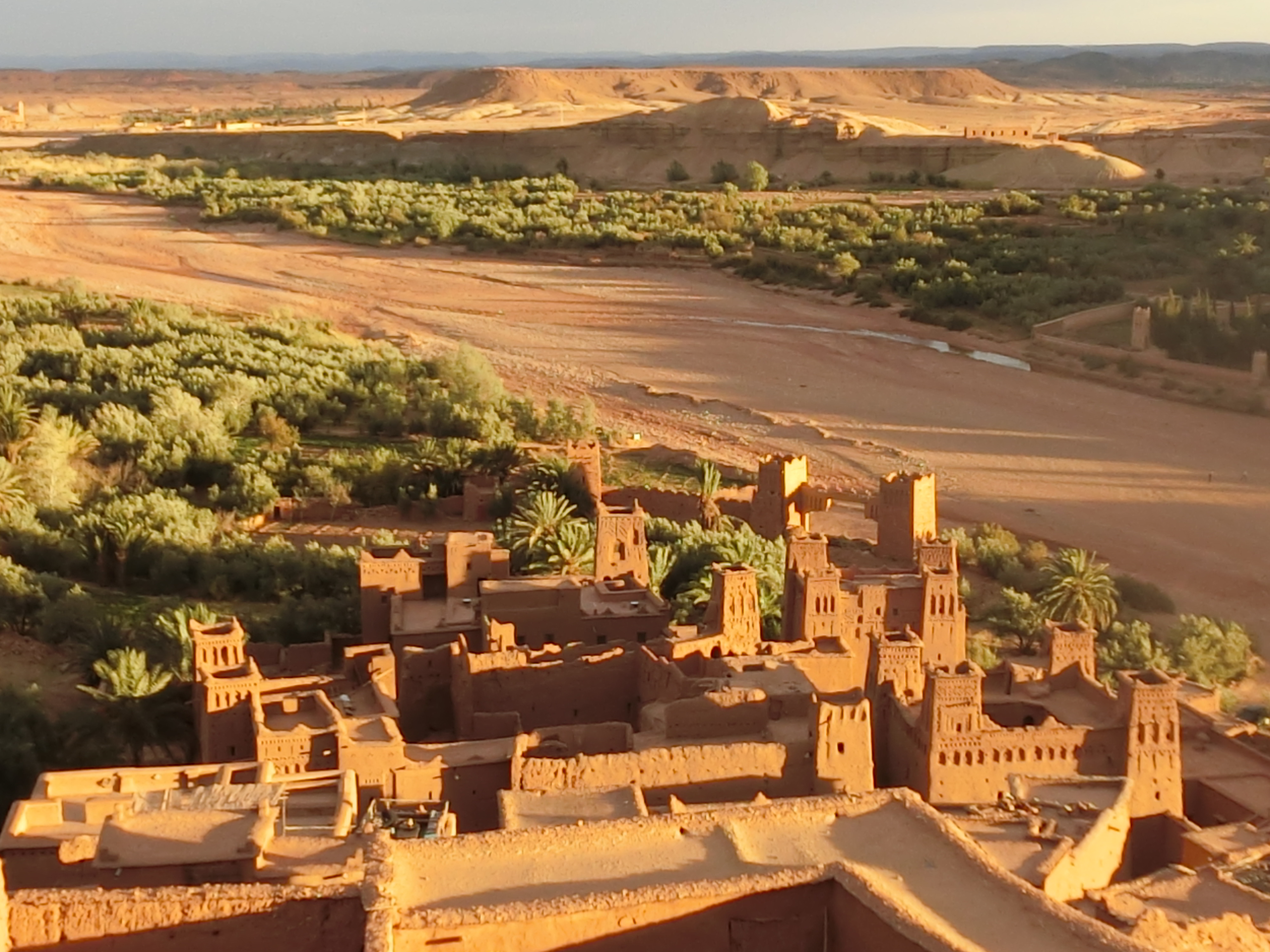 Day 4: Ouarzazate – Merzouga   
– 0800H: Walk around the small town of Ouarzazate (less than 1km) away from Le Petit Riad Maison
-1130H: Purchase bus ticket at Supratour counter and have lunch in the area while waiting
-1300H: Depart Ouarzazate on Supratours Bu. Duration of ride: 8 hours.  Price: 155Dh
Note: The trip with the bus Ouarzazate Merzouga is a fantastic trip where you'll pass the Rose Valley and towns like Kalaat M'Gouna, Boumalne Dades, Tinghir, Goulmima, Errachidia, Erfoud, Rissani and finally the finally destination of Merzouga.
-2100H: Arrive Hassilabaid town which is 4km before reaching Merzouga.
Stay at Hotel Hsven La Chance
Address: Ksar Hassi Labaid, Merzouga, 52202, Morocco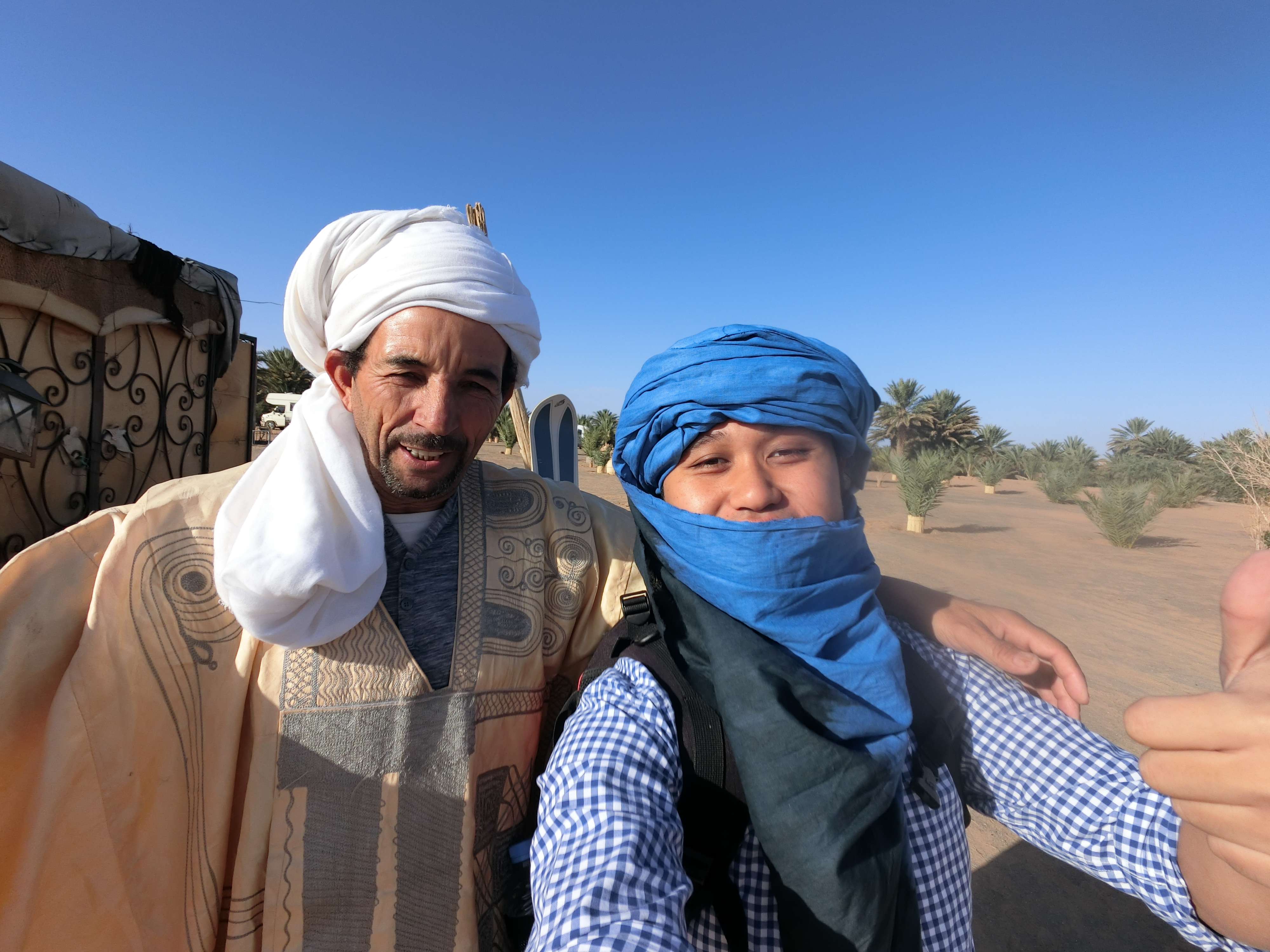 Day 5: Merzouga  
– 0900H: Take  a 5 minutes walk from hotel and you will arrive at the Sahara Desert (Self walking)
– 1130H: Finish exploring Sahara Desert. Back to hotel for rest
– 1230H: Visit some Berbers in the village, which is only 800metres away from hotel and explore the small town
– 1630H: Collect your camels 2 hours before sunset for overnight Bivouac in the Erg Chebbi dunes under the stars
-1800H: View Sunset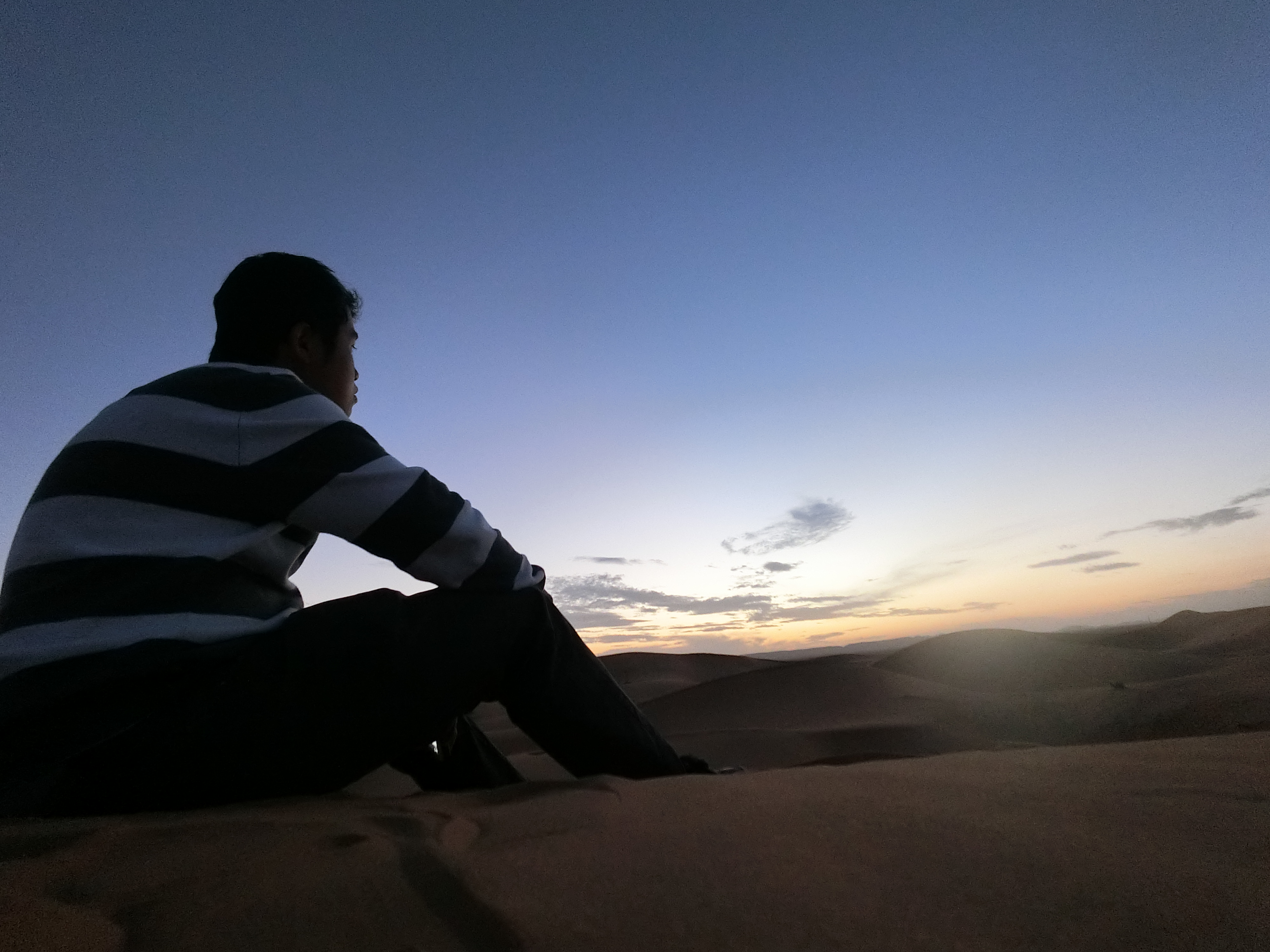 Day 6: Merzouga- Menkes  
-0530H: Wake up; Hike up to view sunrise
-0600H: Enjoy amazing sunrise
-0800H: Camel ride back to hotel (40 minutes)
– 1730H: Head back to Hassilabaid town and purchase bus ticket from SupraTour
– 1900H: The bus will leave for Menkes  at 1900hrs and arrives 0330H in the morning in front of the train station in Menkes. Costs: 180Dh.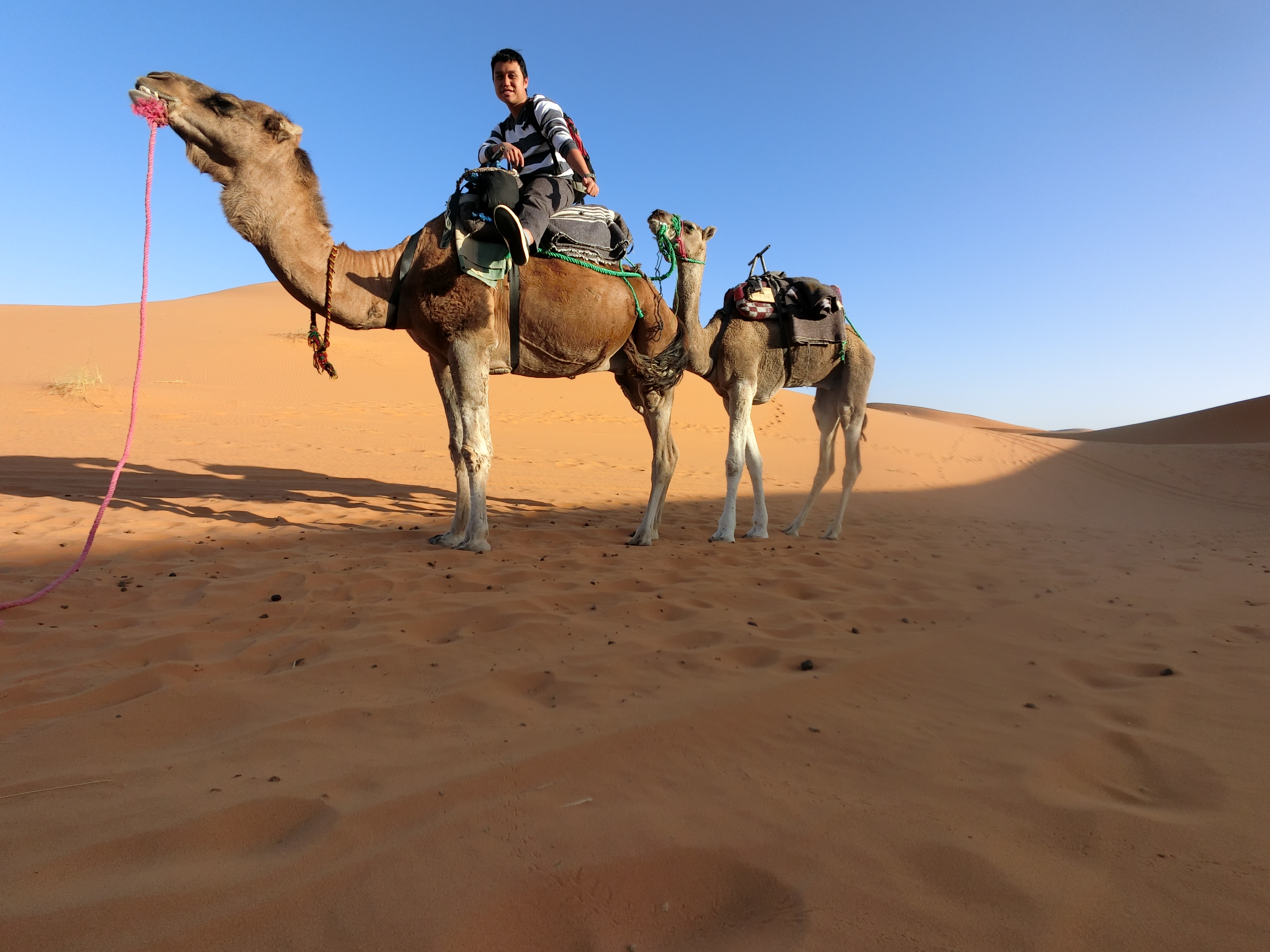 Day 7: Menkes – Fes – Chefchaouen  
– 0330H: Arrive Menkes
– 0700H: Explore Menkes
– 0830H: Hire a Grand Taxi outside  the French Institute  to visit Volubilis & Moulay Idriss  (3-4 hour is enough for these 2 attractions)
*Note: Different prices depending on the duration of grand taxi rental.
– 0900H: 25 minutes ride from Menkes , one will arrive at Volubilis; Explore the Romain Empire (2 hours required to cover this area)
– 1100H: Head to the town of Moulay Idriss , 4km away from Volubilis.
– 1230H: Take the grand taxi back to the train station in Menkes. Specific to the driver to bring you back to the station where there is train ride to Fes.
*Note: There is another train station in Fes, do not be confuse.
– 1308H: Train depart from Menkes to Fes
– 1355H: Arrive Fes. Explore this historical city.
– 1500H: Head to Place Atlas in Fes and purchase bus ticket on CTM Bus to Chefchaouen
– 1615H: Take CTM Bus (3 departures per day from Fes to Chefchaouen, departing from Fes at 08h00, 11h00 and 16h15. Takes approximately 4 1/2 hours.) Cost:  75Dh
* Note: Like SupraTour bus, CTM bus also charges 5Dh for each large item of luggage to be stored underneath of the bus. No big luggage are allow to bring on board the bus seat.
-2015H: Arrive Chefchaouen
– 2030H: Only 1km away from the bus alighting point, stay at Hotel Casa Khaldi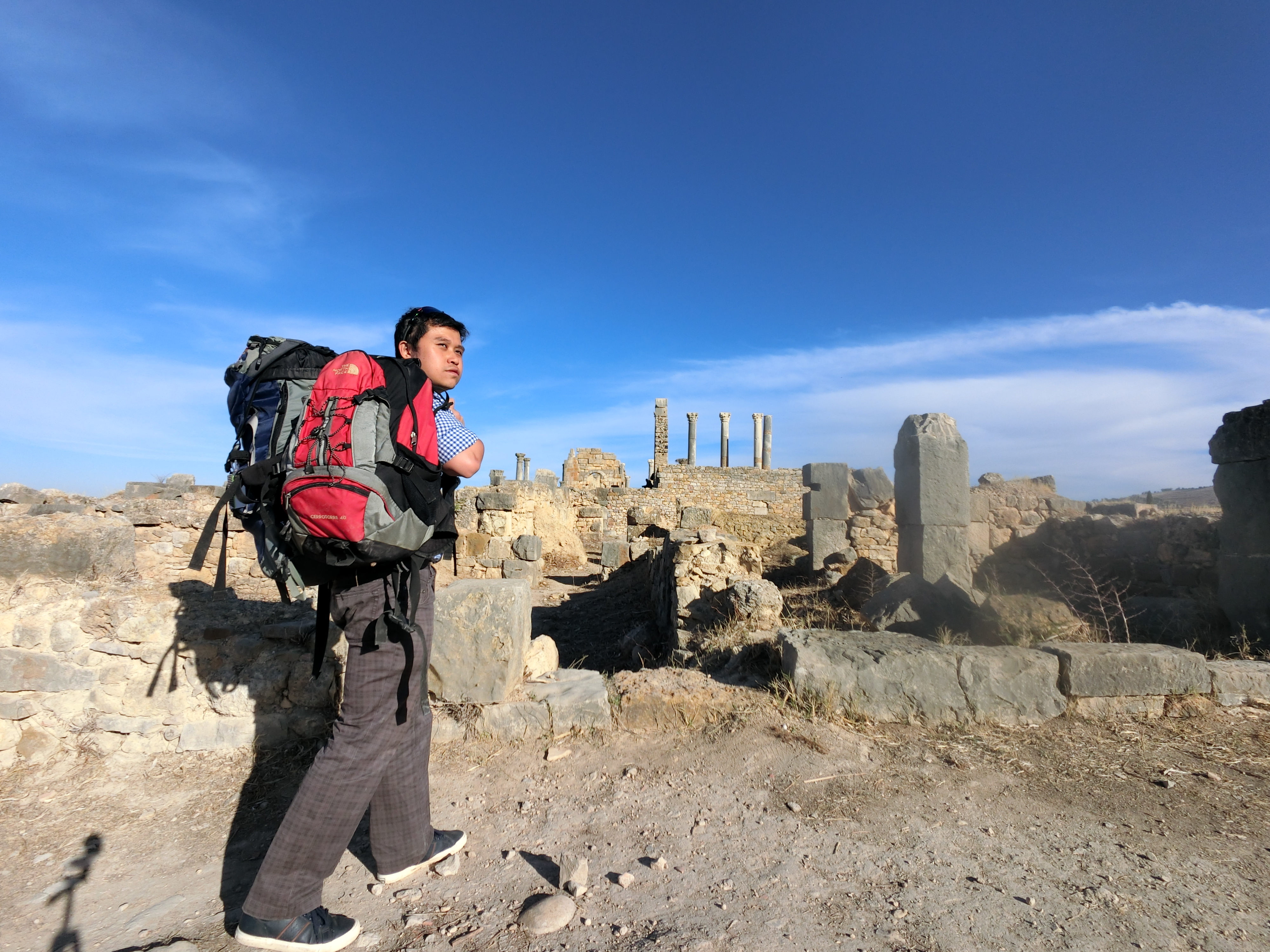 Day 8:  Chefchaouen- Fes-  Casablanca
– 0700H: Explore Chefchaouen known as the blue city, chill out at cafes
– 1215H: Take SupraTour bus from Chefchaouen to Souk El Arbaa. Then take train from Souk El Arbaa to Casablanca (Casa Voyageurs).
*Note: You can purchase both the bus and train ticket together at the counter. The counter for SupraTour is 5 minutes walk from the main bus terminal in Chefchaouen. Walk up the sloppy hill, look to the shops on the right and spot SupraTour Bus counter.  
– 1825H: Arrive Casablanca; Casa Voyageurs
– Night accommodation at Casablanca. Recommend staying in old medina, near to Casa Port train station as one can witness the night local scene market and is near to train station which departs to airport the next day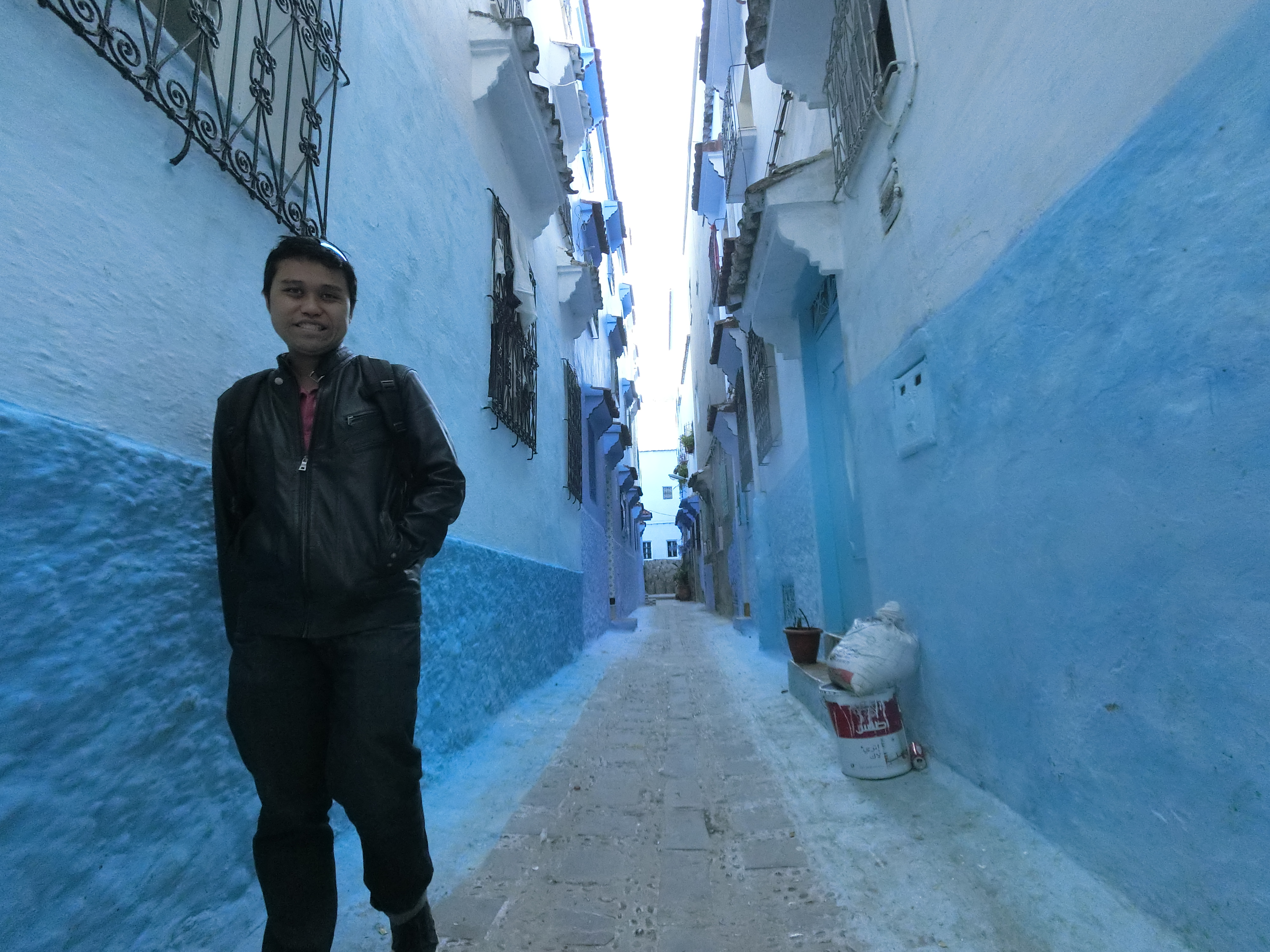 Day 9: Casablanca (CMN) – Home
– Take 5 minutes train ride from Casa Port to Airport station
Here is the video summary of what to expect in Morocco.
Categories: Africa Region, Itinerary